Beyond the usual; realistic versus abstract design preferences, I suppose aesthetics usually don't play a huge factor in most folks' decisions on whether or not to purchase a dildo.
Maybe I'm wrong here, but I imagine, most people peruse online product specs, with a hope of accurately gauging whether or not a dildo's overall dimensions, (i.e., length, width, and girth) will be compatible with their personal preferences. All while holding their breath that the toy they ultimately wind up choosing, won't turn out to be too large to accommodate comfortably. Or judged too diminutive in one dimension or another, and thus, found inadequate.
I don't pretend to know which scenario is worse, the former or the latter. To be sure though, neither is fun. Not to mention, the painful disappointment and unexpected hit to the wallet an incompatible toy can cause.
What I'm saying is this: measurements are of the utmost importance when shopping for a dildo.
Form & Function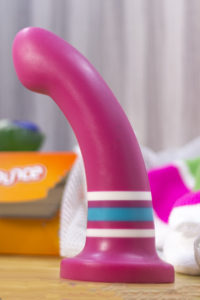 Yet, if you're like me, you not only want your toys to be the ideal size and shape, preferably one that is filling and pleasurable, you're also looking for dildos that are appealing enough to admire when they're not in use. Perhaps, sitting idly on your bedroom nightstand. Or where ever it is that dormant sex toys reside in your realm.
If this sounds at all familiar, allow me to direct your attention to BS Atelier. The European artisans, behind a line of handcrafted, premium-silicone beauties. BS Atelier is the silicone maker of all things beautiful. In my humble opinion, they are the equivalent of Picasso in the world of silicone sex toy production. They are true aficionados of color and design. With each of their unique, eye-popping designs evoking a sense of fun and lightheartedness that is hard to find elsewhere.
They're most assuredly are not shy about experimenting with color. They fearlessly meld and mold silicone into vibrant multi-colored stripes, and unabashedly combine unconventional hues with animal prints. Theirs is a site I enjoy browsing. Leisurely window shopping, while simultaneously lusting after the veritable kaleidoscope of unique shapes and of color choices they offer.
I have a theory, I'd wager that you could fill a gallery with a collection of BS Atelier dildos and charge admission, and no one would bat an eye. These dildos are truly works of art. No two are exactly alike. Due to the handmade nature of their production.
Eeny, Meeny, Miny, Moe
While this was no easy task, mind you, I wound up choosing the G-Spot shape in medium, (BS Atelier offer both, a small and large option, as well.) with a Sport Tokyo color scheme. And what a delightful specimen it is! It's almost entirely magenta-hued. Except for the addition of three alternating bands of a complimentary turquoise and white near the base. Which gleefully reminds me of my middle school gym socks. Wow, nostalgia is a powerful drug.
Out of BS Atelier's seven dildo silhouettes, I considered the broad flattened head of the G-Spot as the driving force behind my final decision. I predicted, and rightly so, that the G-Spot Sport's upward tilt, and broad curve, would provide me with the consistent g-spot pressure I crave.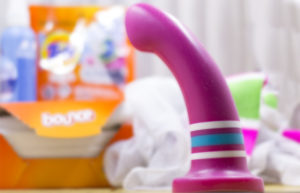 I was also satisfied with the G-Spot Sport's dimensions. Thankfully, as I mentioned earlier, I choose the medium. After waffling back in forth between the medium and large. The G-Spot Sport in a medium is a nice middle of the road sized dildo. I correctly predicted that its 6.5-inch overall length and 1.5 inch widest point would be compatible with my desires. I also appreciate the broad base, as it gives me ample purchase for each of my thrusts. Lube slicked hands and all.
One thing I had not expected, but really, how could I, was the softer texture of the G-Spot's silicone. One that also requires a generous amount of lube to deaden the abundance of friction it creates. The best description I can give is that it's somewhere between Tantus's new Super Soft shore and their vintage OG silicone.
I don't pretend to be a connoisseur of silicone shores, but as I've begun learning the intricacies of my g-spot, I've discovered, that I enjoy a stiffer shore, specifically for G-Spot toys. Still, I'm not mad at the BS Atelier G-Spot Sport's softer shore. It's stiff enough to get the job done. It just provides, perhaps, a mellower, less in your face approach to G-Spot stimulation. But, I won't deny that if I had my druthers, it would be a tad harder. No shade intended.
Have It Your Way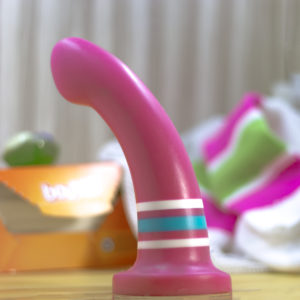 To purchase a dildo that looks exactly like mine, along with any number of splendidly colored dildo and butt plugs, you'll need to cut out the middleman and go straight to BS Atelier's online site. Just expect to pay a bit of a premium for a wider selection of colors and combinations. This is the norm when you purchase straight from the manufacturer. The upside is that your color choices will be near limitless. Since BS Atelier offers a custom, made-to-order option. Where you choose which colors you want.
Or, if on the other hand, you're a bit more frugal, you can purchase stateside from SheBop, Early to Bed, or SheVibe. Each of which offers a much more limited offering of BS Atelier products, with SheVibe maintaining the most varied selection of BS Atelier products.
Whichever route you choose to go, I don't think you'll be disappointed.
---