Quick question, would it be a bad thing if I were to admit, that a large part of why I choose the Sola Cue to review, is its gorgeous shade of pale, ice blue? Sorry, but blue sex toys are a rare occurrence and pretty hard to come by. Anyway, there's got to be worse ways to go about choosing a toy to review, right?
Take, this, for instance, I could blindfold myself, spin around 5 times, and point at my laptop screen. Going with whichever random sex toy my finger lands on. À la Pin the Tail on the Donkey. Or, I could throw a flaming dagger at a spinning wheel, (think game show here) that displays the names of all my potential review items? Nah, or maybe not. Perhaps, instead, I could forego all the hassle involved in such an intricate setup and try flipping a coin? Leaving me at the complete and total mercy of sheer chance.
So, yeah, that answers that. Theoretically speaking, anyway, yes, there are much odder ways to pick a review item.
But whatever, I'm not ashamed to say it again, the Sola Cue's gorgeous ice blue, had me at hello. Be still my blue-sex-toy-lovin' heart.
Bounce With Me
The Cue is a toy, I'm willing to go so far as to say is not only rumbly, but at certain speeds and patterns, actually achieves that highly coveted distinction of thuddy. Which is not as common of an occurrence as you might think.
To those of us who are members of the Power Royalty, and that's Power with a capital "P" thank you very much, thuddy is not an adjective we throw around loosely. Thuddy is reserved for those toys where you can practically visually observe the powerful vibrations by the toy's back and forth movements. Whereas a buzzy toy vibrates at such a high frequency you can't possibly see the individual movements. Thuddy vibrations also create a bounce-back effect against your hand, or whatever it might be pressed against.
Just a quick disclosure, before we continue. So far, I haven't been able to orgasm through g-spot stimulation alone. I do, however, find a firm and consistent pressure against my g-spot rather pleasurable. Due to this unique set of circumstances, I tend to look at insertable, g-spot vibrators, like the Sola Cue, more for their potential to be used externally.
But, for the sake of this review, and my readers, who some of which surely prefer internal vibrations, I, of course, tried it both ways.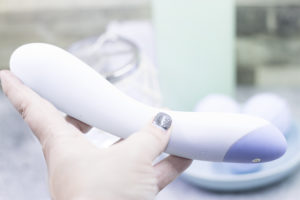 And since we're on the subject. Now is the perfect time to mention that there is no need to limit a toy to its "on-label" uses. Everything is fair game, as long as you have everyone's consent and you're being safe. Meaning, no one should ever insert anything without a flared base anally. Beyond that, you're really only limited by your imagination. The key is to be open to exploring and just having fun, that is what's most important!
One Size Fits Most
The Cue's 1.5-inch, maximum diameter tends to be a good "one size fits most" dimension within the realm of insertable sex toys. It's a size that's achievable with just a little warm-up, as well as not being overtly intimidating, for those who're new to penetrative toys. While also being a filling enough size to be found satisfying to those, of us, who are more acquainted with insertables.
Personally, I find the size and the gentle, arch of the Cue, fit my anatomy like a hand-in-glove. Together, the Cue's 5-inches of insertable length and it's soft upward swoop, placed the tip, the widest part of the vibe, snuggly against my g-spot. While the Cue's silicone-over-hard-plastic construction is stiff enough to give me just-the-right-amount of pressure to make it feel pleasurable.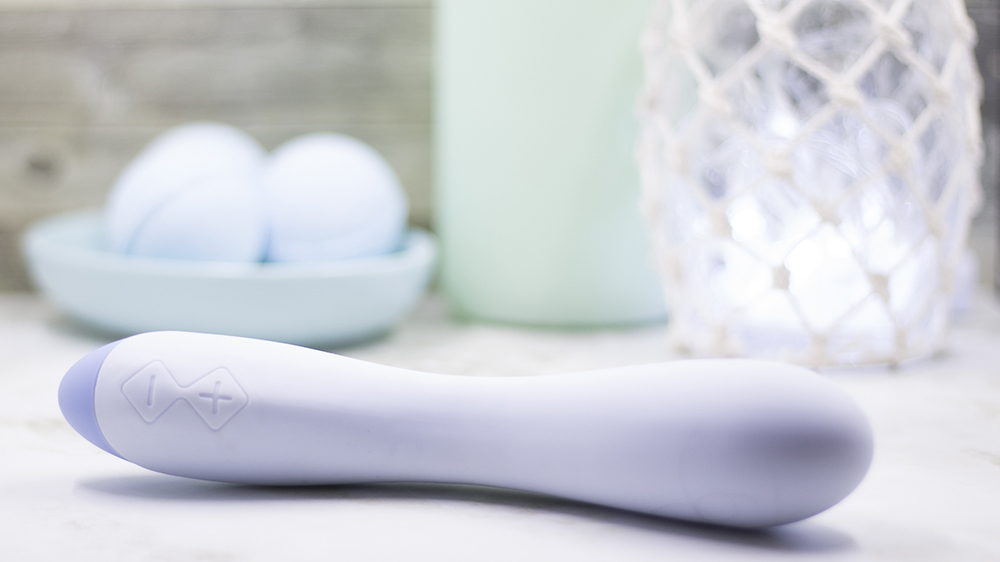 I won't deny that I didn't achieve an orgasm from using the Cue this way, but honestly, I wasn't expecting to. I did, however, enjoy the internal sensations of its powerful vibrations. They are rumbly enough to stimulate the deeper tissue structures of the clitoris. And more specifically, I found the Cue's 5 pulsating patterns preferable to its steady vibrations during internal play. They are bona-fide thuddy! I think with some time and patience I may actually even be able to have an orgasm this way. We'll see, but I'm definitely up for the challenge!
Now on to the good part. I'm kidding, but really though, externally is where this toy really shines for me. I found the strong, rumbly vibrations intensely pleasurable. Meaning, I had no trouble reaching orgasm with the Cue. Even if its shape doesn't line-up exactly with my usual preference for pinpoint types of stimulation. The shape of the Cue's tip actually provides a broader more diffused sort of stimulation. With its deeply resonating vibrations, once again reaching the deeper, internal structures of the clitoris. Culminating in my having some deliciously penetrating orgasms.
Pardon The Interruption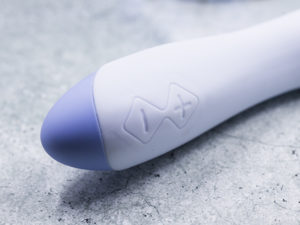 As for the mechanics of the Cue, its dual +/- control buttons, are easy to find and engage during use. There is, however, a three-second delay encountered when turning the toy on or off. Which is a common feature among vibrating sex toys. Intended to prevent someone from accidentally turning their toy off, mid-fap. But for me, it's decidedly an inconvenience.
Since I rarely have the luxury of privacy, I prefer a toy to have a quick shut-off response due to the potential for unexpected interruptions at mi casa. This is the only small drawback I found with the Cue, but it's not enough of a gripe to withdraw my recommendation.
So luckily my original infatuation with the Cue's shade of blue didn't lead me astray. In the end, no matter how arbitrary or shallow, my decision to go with the Sola Cue, may, or may not, have been, boy, am I glad I choose it! Yes, I'd heard rumors circling the blogosphere about the Cue being a pretty good vibrating, g-spot option. Pretty good, simply doesn't do it justice. This is a great choice those who're on the lookout for a decently priced insertable vibrator option.
---