Earlier this year, Tantus, announced the release of their new, beginner-friendly, Super Soft Silicone™ formula. With Vamp, one of Tantus's mainstays, being the first dildo to undergo the transformation.
I'll give Tantus's marketing team credit. They certainly know how to stir up a buzz. I personally, caught my first glimpses of the Super Soft Vamp via one of Tantus's promotional emails. I was immediately wowed by the new color choices. Particularly the new copper. Which, I suspect is universally coveted by most Tantus fans alike. I'm living for its glistening almost-iridescent finish. Besides that, this new-release was also immensely exciting for me, because it was a new spin on one of my old favorites.
Déjá Vu All Over Again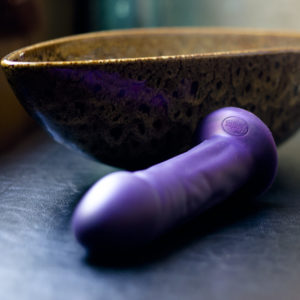 See folks, me and Vamp, we have a history. The Original Vamp, which I'll sometimes refer to as the OG Vamp, will always hold a special place in my heart. As well as with my nethers. As it was among the first silicone dildos that inspired me enough to step out of my comfort zone and make my first legitimate, premium sex toy purchase.
I can vividly recall my excitement, tearing into that big, brown cardboard, shipping box. Guessing, and rightly so, by the box's substantial weight alone, that it held the hefty abundance of my very first silicone acquisitions. The ones I'd proudly snagged at impressively low prices. During Tantus's famous, Black Friday grab bag sale.
Which, by the way, remains one of the best, annual opportunities for any Tantus toy-enthusiast to begin or add to their silicone collection.
Granted, it wasn't exactly lust at first sight for me and Vamp. It literally took some time to warm-up to my girthy new toy. As a newly-minted initiate to Tantus's notoriously firm silicone, I found the OG Vamp's hard shore and the stiff, exaggerated, coronal ridge pretty intimidating. But believe me, I don't scare easily. So with a lot of stubborn determination and even more lube, I conquered both the OG Vamp and some of my fears. Eventually, even growing to crave the bold, rigid, fullness of the Original Vamp's bulging coronal ridge.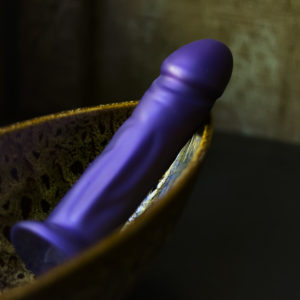 So, you see, kinda like an old friend, I'm already well-acquainted with the Super Soft Vamp's borderline realistic appearance. Its level of realism lands somewhere in between Tantus's hyper-detailed designs, like the Uncut O2's, and their other more abstract offerings. Which includes fan favorites like the Silks, Echo, or Curve.
The Vamp's bold design is rather successful in maintaining "just the right mix" of both genres. Making it appealing to a larger audience. Whatever their preferences for realism may be.
The Super Soft Vamp has all the features we've come to expect from our favorite premium-silicone purveyor, Tantus. It's molded in 100% platinum-cured silicone, through and through. It has a flared base that is safe for anal play. As well as being ideal for use with a harness and an O-ring. I've grown to expect nothing less from the amazing people behind Tantus.
Caught Between A Rock And A Hard Place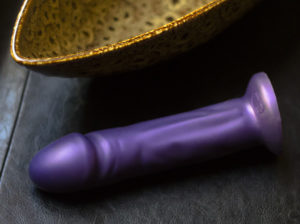 I know first hand, that in its original stiffer incarnation, the Vamp's 1.7-inch diameter and 7 inches of length, can seem hugely daunting. Especially for a dildo novice. In fact, some folks may find it difficult to accommodate the Original Vamp's combination of unyielding silicone and chunkier girth.
I also know, from experience, that Tantus's new Super Soft™ silicone formula takes the edge off of the OG Vamp's dimensions. Quite literally.
Something I failed to mention earlier, was that as much as I enjoyed the stiffness and girth of the OG Vamp, I also ran into an occasional problem. To be more specific, if I became too frantic with my thrusting I sometimes jammed the Original Vamp's hard silicone head right into my cervix. Which is hyper-sensitive, post-IUD insertion. The results of these miscalculated thrusts were not pleasant. Let's just say, ouch!
So, as you can imagine, after that shocking first experience with this orgasm killing threat, I became more deliberate. In turn, much more aware of the depth and pace of my thrusts. Which meant I could no longer throw care to the wind and fuck myself into a frenzy. Bummer.
In The Name of Science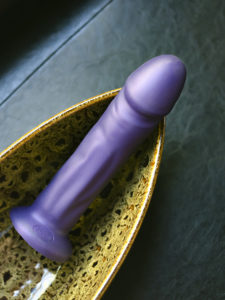 Enter the Super Soft edition of Vamp, problem solved! It has all of the same favorite familiar features I came to crave, i.e. the exaggerated coronal ridge, the length, and thickness. Just in a softer, cushier package.
For the sake of this review, I actually braced for impact, then I slammed the plush Super Soft Vamp smack dab into my cervix. Guess what? I didn't experience the horrible, stabbing, nausea-inducing pain. Which means I'm officially free to completely let go and enjoy all pleasurable things that I adore about the Vamp's overall design. Without the fear of going too far.
It looks like Tantus easily reached their primary goal of a softer more approachable silicone firmness. Which is sure to attract both sex toy novices and the old pros alike.
Yes, I feel absolutely confident, had the new Super-Soft Vamp been my initial purchase, versus the OG Vamp, that I would have had a smoother introduction to Tantus's platinum-cured goodness. Afterall, the Super Soft Vamp is basically just a softer shored clone of the original and the hardness of the original was definitely an obstacle to the toy novice I was back then.
In the end, both versions of the Vamp, have earned a special place within me.
---