A day late and a dollar short, it's become a personal mantra of sorts. One that has been bestowed upon me through no cause or fault of my own. Over the years I've learned to accept my fate and counter it by giving it a positive spin: "Better late than never!"
Yep, I'm a little late to the game. These "air pulsing toys" have been around since mid to late 2015. Starting with the début of the original Womanizer. The consensus of most sex toy reviewers at that time was the gaudy-bejeweled if ill-named, new-kid-on-the-scene was begrudgingly winning them over.
As curious as I was about this new genre of toys, I had to pass on Womanizer's offerings. With prices typically reaching well over the $100 range, I couldn't risk buying one and hating it. Luckily, since then, we've seen an explosion of variations hit the market. With Satisfyer, a German-based company, leading the way. While simultaneously offering a huge discount in price.
Water Under The Bridge?
The Satisfyer 2, the one I'm focused on in this review, easily checks off the affordability box. Something I'll continue to advocate for in adult toys. Coming in at just under $40.00 at Peepshow Toys. Actually, come to think of it, none of Satisfyer's models break the $70.00 price point. That's something I can applaud. You know how much I could go on about safe, affordable choices.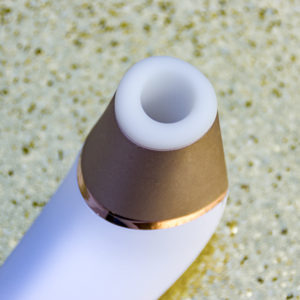 Even so, this is where some would argue, you get what you pay for, and as I mentioned earlier, I showed up late to this party. A lot has already transpired in the sex toy reviewer blogosphere surrounding the Satisyfer line of toys. A particular point of contention stems from Satisfyer's promise that all of their toys are waterproof even submersible. When it has been well-proven through anecdotal evidence that they simply are not.
Easy fix right? Just don't take them in the shower or bath, right? Oh, if only it were that simple! This issue also raises another valid concern that the toys might not only trap water but body fluids and lube. All of which, could get sealed inside due to the toy's design flaw. Ick! Ultimately, this calls into question how hygienic the Satisfyer toys can really be. Buyer beware!
I'm so torn, this was my first experience with this type of stimulation and I loved it, but the Satisfyer 2's faulty design leaves me feeling less than confident about recommending this toy. If not for this thought being in the back of my mind, I would have no problem giving the green light to my readers.
In a Word: "INTENSE"
Overall, my experiences with the Satisfyer 2 during use were pleasant. Obviously, I've heeded the warnings of my fellow bloggers and refrained from introducing mine to water, beyond cleaning it. I was both anxious and excited to feel this brand new type of sensation on my genitalia. If I could sum up the type orgasms I had with the Satisfyer 2 in one word I would use: INTENSE.
Aside from the concerns I've already covered, I like the design of this model. The longer handle, the + and – control buttons, (cant' believe I'm saying this) even that it uses 2 AAA batteries instead of being USB rechargeable, were all things I liked. Cords are the bain of my existence, so the freedom of not having one felt like a breath of fresh air. Although, I'm acutely aware that I'm trading freedom from cords for dependence on access to fresh batteries.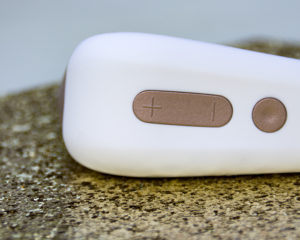 I'm still astonished that I found a toy powered by 2 AAA batteries to be compatible with my wants. In the past that has been a sure sign of discordance. Guess I'll mark that down as another lesson, in the many I've had to learn when it comes to expectations and assumptions.
During use, I took two fingers, kind of like preparing to insert a tampon, and spread open my outer labia, to find the ideal placement for the nozzle on my clit. Aside from the slightly off-putting slurping, sucking noises the Satifyer 2 created, all went smoothly. Once I had it in a comfortable and pleasurable position, it took less than a minute to climax. I found the "suction like stimulation" causes me to have a quick, almost abrupt, build up to some very intense, but pleasurable orgasms.
The first time I used it, I had three back-to-back orgasms. Finding the novelty of this "new" (to me, anyway) brand of clitoral stimulation highly addictive.
I Have A Picky Clit
Lastly, while the Satifyer 2 has 11 settings, I enjoyed the lower end of the spectrum. Finally settling right around levels 3 or 4. Both of which turned out to be my "Goldilocks settings". Anything above that felt unpleasant, nudging the already powerfully intense sensation over the edge into the slightly painful realm.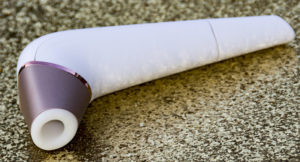 While I am one of those people who happen to love direct clitoral pressure, right up until the second of orgasm. Right as I reach my peak, I switch to lighter clitoral pressure and go a little more indirect to prevent painful overstimulation. The Satisfyer 2's upper settings give me the same cringy feeling of overstimulation, I get if I continue to keep the pressure on throughout an orgasm.
It's Your Call
In the end, it's your call, I guess. Yes, I love the sensation and orgasms this toy gives me. Still, if I'm being 100% honest I feel conflicted about whether I should out right recommend the Satisfyer 2. (Or any of the Satisfyer line for that matter.) Until there's been a resolution of the issues at hand.
Here's the thing, if I enjoy the way it feels, I'm certain many of you will find this type of stimulation pleasurable too. I'd just hate to see you write this brand off completely. My final thoughts on the subject are: If you do decide to buy one, don't submerge it in water and be hyper vigilant with your cleaning.
---
Get your Satisfyer 2 at these fine adult toy retailers: Peepshow Toys, SheVibe, & LUVOQA.


SaveSave