In the wacky world of sex toy blogging, we, as bloggers, sometimes take for granted the easy access that we have to the most expensive toy lines out there. In doing so, we overlook the challenges our peeps living on a shoe-string budget have to deal with on the regular.
In other words, college students, single parents, and all the other real-world scenarios where buying a two or three hundred dollar sex toy is likely going to be completely out of the question.
Do We Have to Sacrifice Fun?
Growing up poor, then going on to do a long stint as a single Mother, I know all too well how it feels, to have to sacrifice fun for necessities. This is why I appreciate Blush Novelties, and their growing selection of affordable, yet, body-safe, sex toys. Ones that manage to include all the latest features, but at prices that won't have you experiencing buyer's remorse, right after clicking the complete checkout button.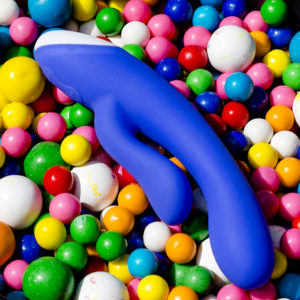 I know, I know, we all have been led to believe, low cost means low quality. Except this isn't always the case.
After being impressed with my introduction to Blush Novelties via the Real Nude Suko, I wanted badly to try one of their motorized products.
Strangely enough, not long after, the universe answered, and the opportunity to review one of their dual stimulation vibrators, from the new Hop line presented itself to me. So of course, I hopped right on it. (Sorry, couldn't resist the chance at a gratuitously corny pun.)
Leg Shaking
The Hop line is one of Blush Novelties latest offerings in the dual stimulation or rabbit-style vibrator category. Made up of four distinct silhouettes. I chose the Trix specifically for its broad, flattened clit stimulation arm. Hoping the stars as well as mine and the vibrator's anatomy would all align. Culminating in some leg-shaking, dual-stim orgasms, the likes I'd never seen before. Hey, a girl's gotta have dreams, right?
So what do I love about the Hop Trix beyond its reasonable price? Well, quite a lot really. I love the feel of its gloriously smooth, platinum silicone body. Its perfectly arched, g-spot hitting curve. As well as the easy, click-in-place, magnetic charger, and the powerful motor in the insertable arm.
As for that wide, clit stim arm, I mentioned early? Oh yes, was I right, and boy am I'm glad I choose this model. The broadness of the clitoral arm, coupled with its bendability makes it easy to nestle perfectly between my chubby outer labia. Easily targeting my clit's sweet spot. (that being the right side)
I definitely didn't have any problem managing to orgasm while using the Hop Trix. The deliciousness of the consistent pressure against my g-spot, coupled with the insertable arm's rumbly motor felt incredible all by themselves. But with the added pleasure of the external stimulation on my clit, the Trix, brought forth some knee-weakening climaxes. Let the leg shaking commence.
Money Is No An Object
My one and only wish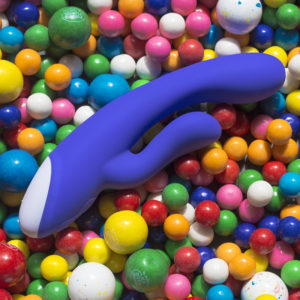 is that the Trix had a little more juice in the clitoral stimulation arm. Maybe I'm a little spoiled by the thuddiness of my beloved Tango, but when it's gone it's hard not to miss. The Trix would be even better if only the motor in the clit stim arm mirrored the awesome, rumbly motor in the insertable arm.
As for that, I'm starting to see a pattern. The strength of the motor in another rabbit style vibe's clitoral arm was a major point of contention for me. If you remember, it was the main reason the Bi-Stronic Fusion didn't impress me much.
Yet, I should also remind you that we're not talking about a $219.00 toy here. So I'm willing to cut the Trix some slack. Considering it sells for 75% less than the Fusion.
All in all, I'm pleased with the Trix's overall performance.
Sex Toys For The Frugal
I can't help but thank my lucky stars that I'm living in the modern era of sex toys. A time unlike any other, where platinum cured, rechargeable sex toys, are affordable and easy to access. While yes, you may have to compromise on some features. You won't have to compromise your health.
Companies, like Blush Novelties, are filling the demand for high-quality, low-cost, sex toys. They're one of the handfuls of companies that recognized the real need for affordable, body-safe options.
They are creating excellent, body-safe choices for the financially downtrodden, or the more frugal buyers among us. Offering body-safe toys running the gamut from butt plugs to vibrators and everything in between. We're talking about some pretty amazing toys at way cheaper prices
After all, you know what I always say, "Everyone deserves pleasure and body-safe sex toys options. Spread the message!"
---
Get your Blush Novelties Hop Trix at these fine sex toy retailers, SheVibe & LUVOQA