∼The Gray Suede Wrist-Ankle Restraint Combo was provided to me free of charge, by Oddo Leather, for an honest and forthright review.
To be bound, and blindfolded, fully embracing one's vulnerability can be one of the greatest sexual highs. I'd liken it to the over-used, yet, best-suited analogy, of the slow climb up, on a roller coaster. It provides the perfect illusion of being completely out of control of one's own destiny. A breathless, high tension, feeling of surrendering yourself to the moment. Everything is amplified. From scents, and the delightful sensations on the flesh, to the sound of your quickening heartbeat, thumping loudly in your head.
I was immediately drawn to the beautifully handmade, bondage gear crafted by Oddo Leather. Based out of Atlanta, Oddo Leather has been creating high-quality, bondage equipment since 2001. With only a cursory glance at their website, I was intrigued by what I saw there. I found an ample selection of fabulous kink-inspired, products ranging from collars and cuffs to gorgeous, leather floggers and paddles.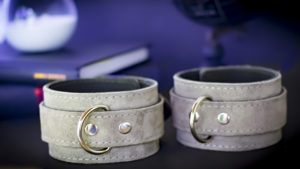 And I haven't even got to the best part. Which is, they construct them in various choices of flashy bold colors. So, not only can you indulge your kinky side, you can do so with a touch of your own unique flair. This, caused me to admire their products even more. I'm a fool for bright, playful colors.
The Suede Wrist/Ankle Cuff Set I choose arrived in their most popular shade of gray. The set includes a total of four, Latigo Leather lined, suede cuffs. Two cuffs for the wrists and two for the ankles. Plus, a pair of matching, gray suede connectors.
Upon their arrival, the first thing I did after taking them out of the packaging was press them against my face and take a deep breath of the glorious scent. Mmmm…the sweetly distinct, but hard to describe fragrance of genuine leather.
To be perfectly honest, the Oddo Leather Cuff Set was even more impressive in person than I dared to imagine when viewing it online. Oddo Leather creates a truly premium product. The pride they take in their work is clear in the quality of their craftsmanship. The Combo Cuff Set I received is worlds apart from some of the other supposed "high-quality" bondage sets on the market today. As an example, I noticed right away that the contrasting, nylon top-stitching is tight and maintained in perfectly straight lines. No frayed, broken, or crooked stitching is to be found. That is a testament to their quality control and craftsmanship.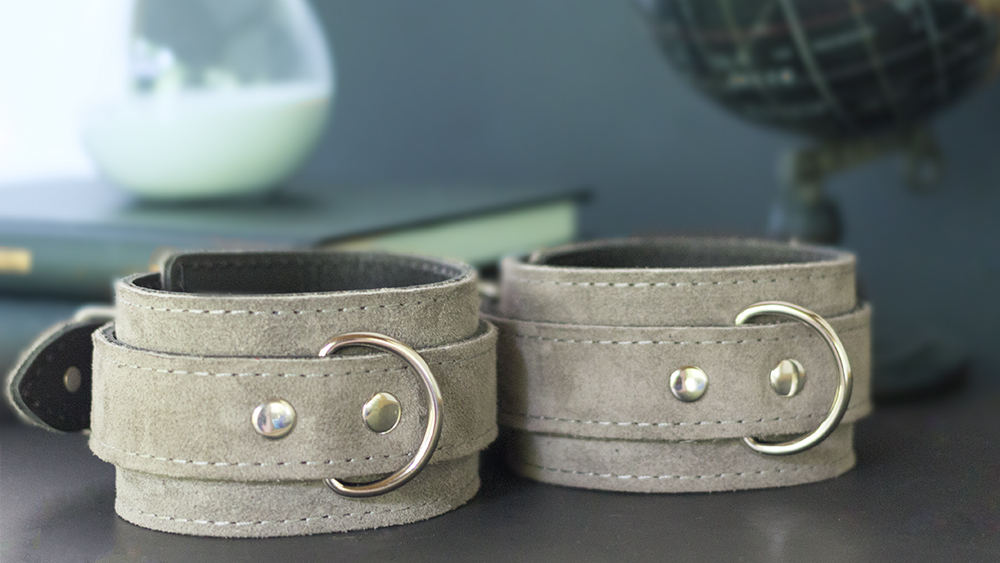 Beyond that, the brass-plated, hardware is chunky and durable. Something that's not going to break when only a bit of pressure is applied. Plus, the silver-tone, hardware on my cuff set, added to the overall beauty of the cuffs. The smooth, chrome-like surfaces of the buckles, studs, and D-rings contrast nicely against the velvety texture of the gray suede. Culminating in a particularly classy look.
Both pairs of cuffs are 2″ inches wide. Nearly identical except for a variance in length. The ankle cuffs are naturally longer to accommodate the typically larger circumference of the ankles. They also have an extra buckle hole for obtaining ideal sizing.
The cuffs, as I mentioned earlier, are lined in smooth, black Latigo Leather. Which I found to be quite comfortable when worn. While the outer layer is a velvety gray suede. Though my cuffs are a more muted gray,  know you're are not limited to gray as your only color option. The Suede Wrist-Ankle Cuff Combo is also available in five other colors. Black, blue, brown, pink, and red. Increasing the level of customizability. Making your cuffs feel even more uniquely yours.
I can't get enough of how sexy these cuffs make me feel. I find it exciting to look down and see them strapped to my ankles. A nice juxtaposition to my red-painted toenails. I found myself just wearing them around the house when I could sneak some time alone, to do so.
Oddo Leather's high attention to detail is worth mentioning again. That along with all the color choices gives me the feeling of owning a pair of custom-made cuffs. A feeling you typically don't get for such a reasonable price, $79.99. I'd call that a steal.
I look forward to getting years of use out these cuffs. Because I have no doubt they were created to withstand the test of time.
---