I know what you might be thinking, "Why another rabbit vibrator?" Particularly when you consider all the challenges they bring to the table with them. You may even be asking yourself "Is she a glutton for punishment?"
The quickest answer to that is, no, I don't intentionally use rabbit-style vibrators to appease my inner masochist. Although I do have submissive tendencies. I don't particularly enjoy solo, orgasm denial via rabbit-style vibes that are poorly aligned with my genital configuration. Nope, not my idea of fun, not at all.
Yet, here I am, determined to turn over a new leaf. Blame my new found pollyannish perspective for this reignited need to soldier on in my quest for the elusive "Goldilocks of Rabbit-Style Vibrators".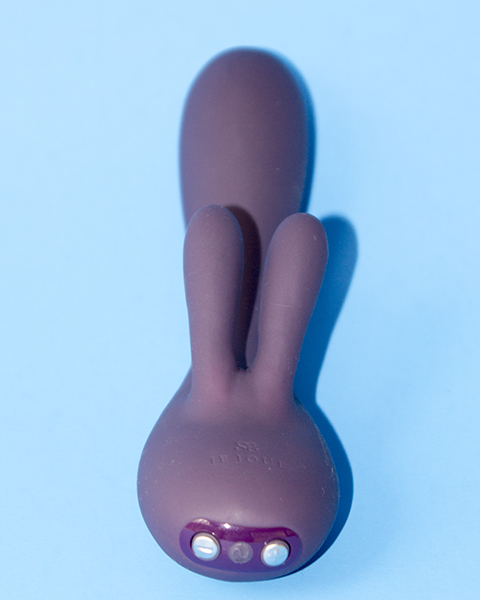 You know the one I'm chasing. It's the one that's "not too much" (i.e. not too short, not too weak, not too long) of any number of potentially orgasm interfering roadblocks. You get the picture. I mean, when you're talking sex toys, a few centimeters can feel like an uncrossable abyss.
I'll admit it, I may be chasing a dream, yet, I hang on to the hope that I'll be able to find the needle in the haystack. Fingers crossed, the FiFi by Je Joue melds with my anatomy like Cinderella's foot with the infamous glass slipper.
What's In A Name
Admittedly, it's hard to take a sex toy seriously with a name like FiFi. The name is not something I'd typically associate with a sex toy. Maybe my Great Aunt's little, white Yorkshire Terrier, but definitely not a vibrator. Especially, the well-crafted, rechargeable luxury vibe we're discussing here.
Odd naming choices like this one really make me wonder, "How do sex toy manufacturers name their products?" Who knows, this may remain forever one of life's little mysteries.
Don't worry, I was able to look beyond the name and give Je Joue's FiFi a fair shot.
Anyway, let me cut right to the chase. No, the Fifi didn't turn out to be "the one" but let's not throw the baby out with the bathwater. It still has quite a few redeeming qualities and comes closest to winning the coveted crown and sash so far.
Are You The One?
The silicone Je Joue used in the FiFi's construction is pretty draggy and does need a hefty amount of lube to use comfortably. There's nothing noteworthy to report about it, beyond that. What is worth mentioning, and something I found relevant to my pleasure response, is the hardness of the shaft. It's rigid and unyielding, perfect for applying pressure to my g-spot.
Where the "rabbit ears," or clitoral arms are stiff, with only a slight hint of flexibility near their base. Which helps me in acquiring a comfortable placement. I for one, don't enjoy feeling like my clit is in a vice, and the "ears" have just enough give to be comfortably snug.
Along with the hardness of the shaft, I also found the insertable length ideal at five inches. This, combined with a perfectly swooped shaft, and bulbous tip, make for some superb G-spotting action.
So far so good, right? Let's see where this takes us.
I absolutely adore the motor in the clitoral arms. Even though they are a tad on the noisy side. I would go so far as to describe the vibrations in the clitoral arms as thuddy! Yep, you heard me right, they're sweet little powerhouses of pleasure and the perfect length to reach and target my clit. They easily found their mark.
Hallelujah, no insurmountable voids to work around!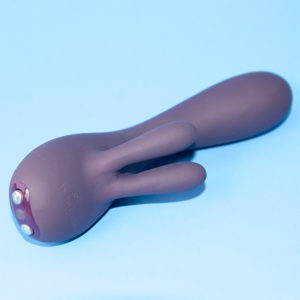 Unfortunately, this is where things start to get a little less than rosy. I'm more than a little underwhelmed by the motor in the shaft. It just couldn't live up to the high standard set by its tiny twin sisters.
I found the patterns by far, more powerful and pleasing when compared to the steady vibrations. Who even am I? Yep, surprisingly, internal vibrations are something I continue to find myself warming up to.
Speaking of those vibrational modes, I forgot to mention, Je Joue supplied the FiFi with 7 different pulsing patterns, each with 7 escalating levels of strength. All controlled by the 3 buttons on the base of the vibrator.
In addition to the + and – buttons, used to increase or decrease the vibrational strength, you'll find a central button. This one is pressed when changing the patterns. Something else I found, when you turn the FiFi off and back on you are always returned to steady vibrations first. The FiFi doesn't hold a memory of last used or favorite settings.
Almost Doesn't Count
Aside from the less than fabulous internal motor, the buttons are one of my biggest points of contention with the FiFi. They might be the only thing holding me back from bestowing the title of "My Goldilocks Rabbit Vibrator" upon the FiFi. The button set up is just not intuitive enough and they require a lot of pressure to activate. When trying to use "blind" through touch alone, I found myself fumbling a lot and frustrated by them.
So, even though the FiFi helped me achieve some amazing, dualistic orgasms, and ultimately has a lot going for it, I'm still not certain it's "The One". Yeah, close maybe, but we know what they say about close – "It only counts in horseshoes and hand grenades."
You know what that means; the search will go on.
---