If you haven't had the chance to see one of Fun Factory's Stronic vibrators in person, I mean actually hold one in your hand and feel its thrusting. Then it's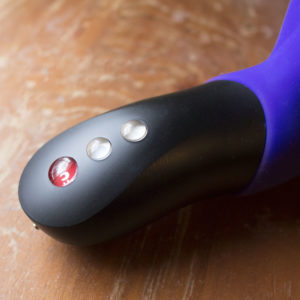 hard to express to you in plain English what an astonishing innovation this pulsating line of toys truly are. After doing a bit of cursory reading on the Stronic pulsator line. I thought I could accurately predict what one of these toy's movements would feel like, but as I soon discovered, my imagination fell short of its mark.
When I pressed the familiar red FUN button on the Bi Stronic Fusion and it jumped to life. I was captivated. Caught completely off guard by the strength, as well as the oddness of its unfamiliar thrusting movements. It was an experience unlike any other. To be completely honest, I'm not sure any amount of reading could have sufficiently prepared me for that moment.
A pulsating Vibrator?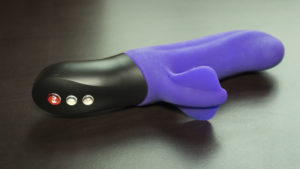 For those who may not know, the Bi Stronic Fusion, is a pulsating "vibrator" (for lack of a better word) from Fun Factory's line of pulsators, the Stronic line. An ingenious line of toys that have a weighted, magnetic mechanism within them. Which creates a back and forth, side to side, thrusting movement. Instead of vibrating, like the majority of today's powered toys.
I bought the Fusion thinking that since Epiphora loved the Eins, that the addition of the Bi Stronic Fusion's external, vibrating arm would almost certainly translate into double the pleasure, right? Overlooking one major problem there, wasn't I? The addition of the the external vibrating arm means the Bi Stonic Fusion is a dual-stimulation vibrator or "rabbit" vibrator. Meaning odds were against my anatomy lining up precisely with the toy's specifications. Also, indicating that several bouts of sexual frustration were likely going to be a part of my not too distant future.
On paper, the Fusion looks ideal. It has a nice, thick diameter of 1.9 inches, a bit of a curved tip for g-spot stimulation, and a shorter insertable length of 4.5 inches. Which prevents it from ramming into my cervix. Something I've come to look for more recently. After getting a Mirena IUD inserted and finding my cervix a lot more sensitive to impact.
I also loved that the Bi Stronic Fusion includes a maddening amount of patterns. Sixty-four patterns of vibration/pulsation to be exact. A number that is practically unheard of.
Smooth Sailing?
In the beginning, I found the pulsating movement exciting and had fun experimenting with all the pulsating/vibrating modes. I also enjoyed the girth and the slight upturned tip. Unfortunately, this is where the novelty of the thrusting started to wear thin and reality began to set it.
It should have been smooth sailing, or so I had thought. Except that it wasn't. It didn't take long to discover my enormous oversight of the dreaded "rabbit vibrator curse". Even though the Bi Stronic Fusion is a new take on the rabbit, it's still a rabbit style vibrator and prone to the same old flaws as all the rabbit vibrators created before it.
In the end I finally had to concede to the fact that no matter how enticing the butterfly shaped, clitoral arm looked. No matter how much I wanted it to work with my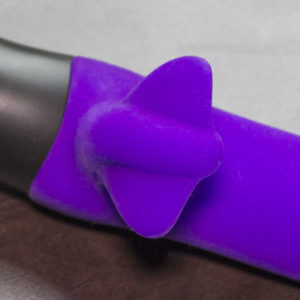 anatomy, it just wasn't going to happen. It overshot my clitoris. That is, unless I took my other hand and pressed the external attachment. Bending it against my clit. (My only sure bet to an orgasm.) Which kind of defeats the purpose of a dual stimulation vibrator, if you ask me. Even then, I'm none too impressed with the power of the motor in the in the external arm. It's buzzy. Definitely not what I was expecting. Especially, after spending $219.00 for the Bi Stronic Fusion.
Initially, I was spellbound by the Bi Stronic Fusion's ability to thrust. Thinking this toy was going to be one for the record books. Going down in history as one of my all-time, personal favorites, but yet again my perception proved to be a bit off. As I continue learning, I'm discovering that in the world of sex toys, no matter how much you like the idea or concept behind a toy, if it doesn't work with your anatomy then all bets are off. Live and learn.
---