Feeling Frustrated
My past encounters with vibrating cock rings could easily be classified as some of the most sexually frustrating experiences of my life. Definitely ranking somewhere in the top 10. For this reason alone, I didn't dare allow myself to have high expectations of the Tenga SVR Smart Vibe Ring.
My very first experience with a vibrating cock ring was with one of those drugstore deals. You know the type I'm talking about. The disposable kind meant to be used only a couple of times and then thrown away. Granted, this was before I had any concept of quality sex toys. Sadly, I will never be able to forget that irksome little vibrator.
After an untold amount of struggling, my partner and I, finally succeeded in finding a position that ensured the cheap little vibrator made "just enough" contact with my clit. Hell, I'll admit it, there for a minute, I even found the buzzy vibrations pleasant…perhaps even enjoyable. Yet, when all was said and done, all of the hassle of working to find the perfect position, angle, and stroke were indeed in vain. Because the encounter turned into a completely frustrating failure for me.
I bet you could guess what happened. Wanna take a guess? Yep, that's right, the buzzy little vibrator caused my clit to go numb! This, of course, happening well before I could reach orgasm. Leaving me frustrated, as hell. Ugh. Excuse me while I bang my head against a wall.
I'm embarrassed to say I ended up faking an orgasm that night. For fear that I'd hurt my partner's feelings. After all, it had been his idea to try the ridiculous thing. I just didn't have the heart to tell him the truth. We went on to try similar drugstore rings a few more times and I continued with my performance.
Pleasantly Surprised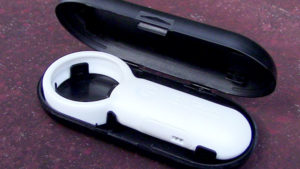 It'd be a huge understatement to say, my initial forays into vibrating cock rings were less than ideal. Thankfully, I've learned a lot about quality sex toys since then.
Amongst other things, my days of faking orgasms are over. As well as, being experienced enough to know that cheap drugstore cock ring is worlds apart from the Tenga SVR Smart Vibe Ring. The SVR actually works and works damn well.
The Tenga SVR Smart Vibe Ring turned out to be full of pleasant surprises. To start off, Tenga really impressed me with the nifty little black storage case that's included when you buy the SVR. It could easily be thrown in a handbag for a date or for travel. You could even stuff it in your back pocket. How many cock rings out there come with their own case? Not a lot, I bet.
The Tenga SVR is USB rechargeable, so there is no need to waste any more money on those cheap disposable versions. They don't work anyway. One 60 minute charge gives you 60 minutes of runtime. As for size, the SVR Smart Vibe is relatively small, but still on the larger end of vibrating cock rings. It's 3.5 inches long, with most of that being the 2 inches of housing for the mini vibrator that's attached to the soft silicone ring.
This longer extension is key to why this vibrating cock ring is so successful. The extra length makes it long enough to ensure constant contact with the clitoris in most sexual positions.
The vibrating extension is covered with the same supple FDA approved silicone used throughout. Making it easy to clean after use. The silicone is pretty flexible. The ring itself can be stretched a lot and still return to its original size of 31 mm.
Easy to use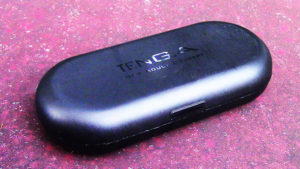 The manual states the SVR is waterproof up to 1.5 feet. I made sure of this after spotting the exposed metal of the charging port, which made me a little nervous about getting it wet. After reading through the instructions. I discovered this is nothing to worry about. Being waterproof also makes cleaning less of a hassle. Although, I do wish there was no limit on the depth of submersion. It leaves me unsure of exactly where you can use the vibe. With this in mind, it should still be okay to use in the tub or the shower.
Using the Tenga SVR is really simple. There is a single button that controls everything. By everything, I mean powering on/off and moving through the vibration modes. By pushing down and holding this button you turn the vibe on and off. Pressing the button repeatedly takes you through the 7 vibration patterns. The patterns include 5 differing levels of intensity, as well as 2 rhythm modes. As is typical with me I favor the steady stronger end vibrations.
The best part of the SVR Smart Vibe is the motor. Wow wee, this little thing is powerful while remaining very quiet. I mean, I have even used the vibrator on this cock ring by myself. Just for the clit stim alone. This is not something I've ever done with any other vibrating cock ring. It truly holds it's own even when compared to the We-Vibe Tango and We-Vibe Touch.
Perfect with a Partner or Alone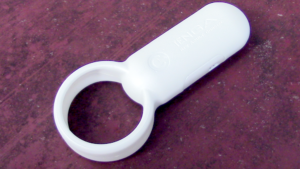 During partnered use, it gets even better. I've always struggled to orgasm through penetration alone. Clitoral stimulation has historically been my main source of pleasure. So I'm constantly on the lookout for couples' toys my partner and I can use together during penetration. Something to give extra stimulation to my clit, during penetrative sex. Let me tell you, with this rumbly little vibrator pressing against my clit, coupled with my partner's thrusting I don't have to fake a thing. I wind up having some amazingly powerful orgasms.
When I look back at those first experiences with cock rings I have to laugh. Due to living in such a remote area, I had mistakenly thought mine and my partner's sex toy options were limited to drug stores. Sadly, back then we hadn't yet realized that a world full of quality sex toys existed, ready and just waiting to be purchased online. All designed to improve the quality of sex and masturbation. Lucky for us, I didn't let that first failure of a vibrating cock ring taint my wish to explore other options. I'm also glad I didn't let my preconceived ideas of vibrating cock rings stop me from giving the Tenga SVR a fair shake. It has definitely added another option to mine and my partner's sex play together. It makes penetrative sex much more pleasurable for me.
I know you may be reluctant to purchase another cock ring if your past experiences with them mirror mine. You may associate vibrating cock rings with weak, buzzy vibrations. You also may have met with the frustration of a cock ring that doesn't work well with your anatomy. I must tell you though if you are looking for a cock ring that really works, I highly recommend the Tenga SVR Smart Vibe Ring. Its powerful motor and unique extension length take it to another level.
---
Get you Tenga SVR Smart Vibe Ring from these fine sex toy retailers, Lovehoney, Babeland, & SheVibe