The Pleasure Works G-Swirl Smartvibe, is a battery-powered, insertable vibrator. Since I have absolutely nothing like it in my toy box, I was really anticipating giving it a try.
The G-Swirl's peculiar, sword shape is what initially caused me to take note of it, but another thing that captured my attention and had me thinking – "I have to have it!" was the thick, swirly silicone shaft that the G-Swirl is named for.
When it comes to insertable toys, texture and girth, are two of my greatest weaknesses. Besides, have you noticed the color choices? Black or lilac, and both are simply gorgeous. Essentially, It was calling my name.
First, a bit of background, I'm what some would call a late-comer to the G-spot stimulation party. For the majority of my masturbatory and sexual history, my pleasure has centered the clitoris. Ultimately, leaving my G-spot extremely neglected.
But, now, after experimenting with sex toys, and becoming aware of the pleasure the G-spot can offer, I realized, I desperately wanted to find out what I'd been missing out on all those years. So began my pursuit of discovering what type of stimulation my G-spot craves. This quest has inspired me to try a variety of G-spot targeted sex toys. Some that worked, others that didn't. When they did, I was thrilled by this newly found source of pleasure. My one and only regret is that I didn't discover it sooner, but you know what they say, better late than never.
---
The Specs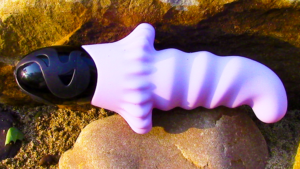 The G-Swirl Smartvibe from Pleasure Works is manufactured by the well-known and well-loved company, Fun Factory. If you're are a fan of Fun Factory, the G-Swirl offers an affordable option to some of the higher priced rechargeable vibrators they offer.
The shape of the G-Swirl reminds me of a short, stubby sword. It's made of a combination of ABS plastic, for the handle, and high-quality silicone for the 4 inches of insertable shaft. The G-Swirl is powered by four AA batteries, it's completely waterproof, and has a flared base. Making it safe for anal use.
Some other features worth mentioning, are the G-Swirl's 8 different functions for each, pulsation and vibration. Affording us with a total of 16 unique selections of vibrational patterns to choose from. All of which are bound to cover a range of preferences. Leaving little chance of excluding somebody's ideal stimulation pattern.
The G-Swirl is 7.5 inches in length, but as pointed out before, only four of those are insertable and it has a nice diameter of 1.5 inches.
Turbo Charged?
When it comes to the operating the G-Swirl, at first, I found the controls were a little difficult to get the hang of. But after becoming more acquainted with using the toy, I had a change of heart. Actually, the +/- buttons, and their placement on the handle, make it pretty easy to adjust the vibrational strength up or down, or to change the pattern. Even when fully inserted or while thrusting, they're easy to find by touch alone.
Speaking of buttons, that reminds me of my favorite feature of the G-Swirl. The conveniently placed, power boost button. Found on the tip of the handle grip. This special little, marked, button presents the option to kick the vibrations up to the highest setting when you press and hold it down. Allowing the user to bypass all of the lower power settings all at once. I found this a nice convenience to be had at certain times.
---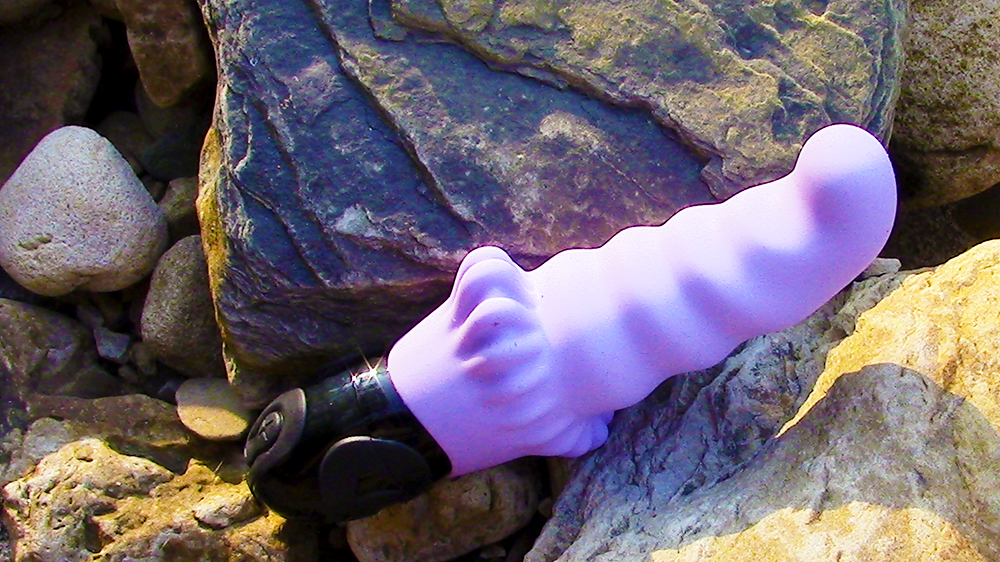 ---
In Use
Since I'm still learning the intricacies of my G-spot, I wasn't sure if this toy was going to work for me. I'm thrilled to report that the curve of the G-Swirl awakened my not-so-long-ago terribly neglected G-spot. The pressure and fullness of the thick hook-shaped vibrator, plus, the strong vibrations in the base knocked my socks off. I was left feeling weak in the knees. Over and over again.
The vibrations of the G-Swirl are deliciously powerful. Strong enough to be felt throughout the entire vulva, as well as the deep, internal structures of the clitoris. The vibrations are surprisingly not deadened at all by the thick, silicone shaft. Not in the least. The motor is powerful and I'm happy to share it's almost noiseless. Two of my top priorities taken care of at once. For those like me, who share quarters with roommates, parents, or children, a quiet motor is a necessity. The G-Swirl has you covered.
Additionally, I discovered that I'm very fond of the shorter insertable length of the G-Swirl features. It's the just the right length to allow the textured base to rub against my clit during penetration. Meaning it's the perfect depth to give me dual clitoral and G-Spot stimulation. Whoever designed the G-Swirl, definitely knew what they were doing.
---
Summing it Up
I'm not ashamed to admit, I'm still a bit of novice at G-spot play and I'm still learning the complexities of this newly discovered pleasure zone. Even as a newbie I know what gets me off and this insertable vibrator does just that.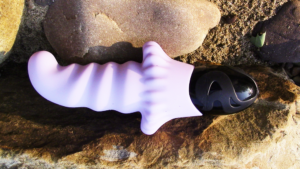 I especially loved how I could grip the handle and thrust in and out while pressing the textured base against my clit. All while clenching my PC muscles around the bumpy shaft. Then finally engaging the power boost button to push me over the edge, to a satisfying orgasm. Time after time.
Through the use of the G-swirl, I've learned my G-spot craves curves, texture, girth and strong vibrations.
I'd certainly recommend the G-Swirl for those out there who've been wanting to try a Fun Factory product but find yourself on a limited budget. The G-Swirl offers a viable alternative to some of the more expensive rechargeable toys they offer. I'd also recommend it to those, like me, that are looking for a quality dual stimulating G-spot pleasing vibrator. The Pleasure Works G-Swirl Smartvibe is great. Get yours at Good Vibrations, a wonderful sex-positive retailer of quality sex toys.
---
Get your Pleasure Works G-Swirl from these fine sex toy retailers, Good Vibrations & She-Vibe.