Reach Out and Touch Somebody
I've gotta tell you, if a top-notch, Grade-A, clitoral vibrator is what you are looking for, then look no further than the We-Vibe Touch. If you have done even a minimal amount of reading in the sex toy, review blogosphere, you've quite possibly heard a chorus of praise surrounding the Touch. You may have even thought that some of the adulations were bordering on exaggeration. Well, let me assure you, all the love and adoration written for the We-Vibe Touch is well-deserved.
With all of that said, please, allow me to take this moment to add my voice to the chorus.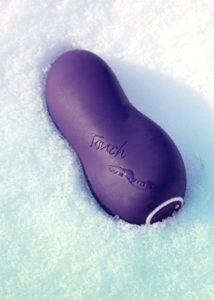 First, I want to say thank you to the folks at We-Vibe for creating such a compact, yet powerful little vibrator. They succeeded in creating a beautifully executed simple design, no gimmicks needed here.
The Touch was sculpted in a way that makes it so comfortable and easy to grip. Even when things get extra slippery. I find the hourglass shape easy to keep hold of, in spite of lube covered hands.
It is coated with an easy to clean, smooth-to-the-touch, medical grade silicone. We-Vibe also made it waterproof, USB rechargeable, and don't forget, the 8 different vibrational modes it has. Which include 4 steady vibrations (which I prefer) and 4 vibrating patterns, all of which are pleasantly rumbly due to the powerful motor the Touch has within it.
A simple, well-placed button on the bottom of the vibrator controls the vibrational patterns. Simply press this single button to scroll through the vibrational modes. This is also where the magnetic charger clicks onto the device to charge. An orange light will blink on the bottom of the Touch when the battery is getting low. Giving a warning, that it's time to recharge. To turn the toy off, you simply hold the button down for a few seconds and it shuts off. The vibrational pattern will automatically return to the last setting in use, the next time you turn it on.
The Magic (We-Vibe) Touch
You may be wondering, do I have any negative points to make about the Touch, and no, really, I can't think of any. In terms of use, it performs perfectly. The powerful, rumbly vibrations have never failed in aiding me to orgasm. I love using the Touch during solo sex, as well as partnered sex. Its size makes it unobtrusive for penetration, be it with a partner or a dildo. It also works well with my anatomy, i.e. plump outer labia, and delivers the deep, clitoral targeted stimulation that I want and need to climax. Although the vibrations do, perhaps, become a little muffled by the thick layer of silicone, it's not enough to interfere with the Touch's overall performance. The vibrations keep up a sufficient level of effectiveness. Even if I apply extra pressure, by pressing the tip against my outer labia toward my clit. As I often do during masturbation.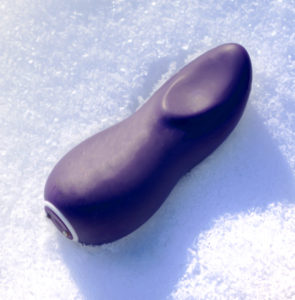 The Touch has become one of my main, go-to clit vibes, due to its versatility. Once again, I highly recommend using it during partnered sex. I have used it a lot lately, during sex with my partner and we both enjoy it. Like I said earlier, it's not too large as to interfere with penetration. This means it also works great when pairing it with a favorite Tantus dildo for dual stimulation when I'm using it by myself.
Another bonus I want to mention, as a mom, who has to keep things quiet. So as to not piqué the interest of my kiddy in the next room, it is oh so quiet. That my friends lend the Touch major bonus points in my book. It also means I can slip it into the bath and take my luxurious bubble bath game to whole other level. Without the noise drawing unwanted attention.
So what can else can I say, other than I highly recommend you buy it. We-Vibe has a 1 year warranty, if your Touch has an issue within the first year they will take care of it, that's hard to find in the sex toy industry. That is just another reason to get one, you really have nothing to lose.  Just a lot of pleasure to gain. Next thing you know you will be singing right along with the rest of us.
---