When this self-described, bullet vibe devotee saw Je Joue had three brand new versions, ones that could potentially be added to my ever-expanding stockpile of favorites, I did a small-seated, happy-dance.
Listen, guys, I fangirl rumbly clit vibes so hard that if "The Rumbly Bullet Vibes" were a sports team I'd be their number one fan. Seriously, I'd cheer them on at every home game. Up in the stands proudly waving my giant, foam finger. Kind of makes me wonder what their mascot would be?
Yes indeed, I love me, some rumbly bullet vibes! You know why? Because they work for me. Pay special attention, though, I did specify rumbly bullet vibes. So what does that mean for the weak or buzzy ones, you ask? Those are decidedly not for me and need not apply. I'm sorry, if that hurts anyone's feelings. It's really nothing personal. What can I say? They just can't get the job done.
So, you do see how it was already a foregone conclusion, one way or another, the Je Joue bullet vibrators would be mine. Mine, all mine! Mine, I say! Haha, haha! (Cue evil-menacing laugh track.)
Lucky for me, I did eventually end up receiving all three. That, in and of itself, a minor dream come true for a pin-point clit-stim fanatic such as myself.
The Beat of A Different Drum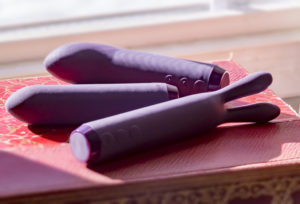 Okay, first things first, before delving any further into my critique of each individual bullet vibe I wanna go over the basics. Covering everything this trio of vibes shares mechanics-wise.
First, and foremost, for those who've never experienced a Je Joue toy, there's something I think you should know. Four out of five, of Je Joue's steady vibrations, are decidedly peculiar.
I'd initially noticed this with their rabbit vibe, FiFi. The vibrations are in fact a little hard to decipher, but seeing as though that is the aim behind what I do here; it'll suffice it to say that they fall somewhere in between throbbing pulses and your plain-old-ordinary-everyday rumbly vibrations. Or maybe you'd be better served if I described them as some bizarre combination of the two. They're unusual, to say the very least.
But most importantly, and above all, they do qualify as rumbly. Signed, sealed, and delivered, baby! Whatever their magic may be, it works, and that's what matters.
The Facts, Ma'am, Only The Facts.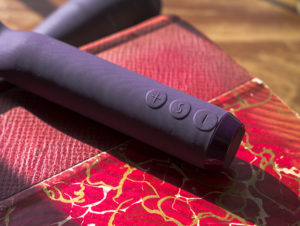 So here's the skinny, each of the Je Joue bullets has seven modes. This breaks down into six patterns, and one steady vibration, respectively. Each of these seven modes has five graduated levels of speed.
All of these patterns and speeds are controlled by three subtly (barely) raised silicone buttons. There is a plus and a minus button, obviously, used to increase and decrease the speed. In between those, is a function button, used to change the pattern. All in all, it's a fairly typical setup.
While we're on the subject of the buttons, I think it's best to get my one and only criticism out of the way. Generally speaking, this three button setup is ideal, but I'm not complaining about the number. What I do wish is that the buttons were a little more…hmm…what's the word I'm looking for? Stiffer, more defined, maybe? As of now, they're just too shallow and it's difficult to distinguish between the three by touch alone. This caused me to inadvertently press the function key when I was trying to increase or decrease the speed.
I'm pretty sure this happened to me every single time every time I used one of these bullets. Ugh, a little frustrating, yes, but in the grand scheme, it's not significant enough of an issue to thwart my recommendation of the Je Joue Bullet Vibes. In other words, I can deal with it.
The Je Joue Rabbit Bullet – Down The Rabbit Hole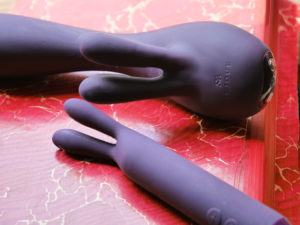 While I longed to try all three, I was most anxious to try the Je Joue Rabbit Bullet. See, we've already been introduced. Or rather, I enjoyed a version of this vibe, in the form of the "bunny ears" found on Je Joue's dual-stim vibe, the FiFi.
This, while on my "To Be Continued" quest to find my "Goldilocks" of rabbit vibes. In my opinion, they're the saving grace of the Je Joue Fifi. "Little powerhouses of pleasure," I think, that's what I called them.
So yeah, all by themselves they sounded oh, let me think…only 10X better!
Surprisingly, the Je Joue Rabbit Bullet Vibe turned out to be my least favorite of the three. I'd made the mistake of assuming the "bunny ears" on the new Je Joue Rabbit bullet would be exact, disembodied replicas of their stiff, rigid counterparts, I so fondly remembered. Instead, I was deeply disappointed when I realized the "bunny ears" on the bullet vibe were not only smaller, but they were also made from a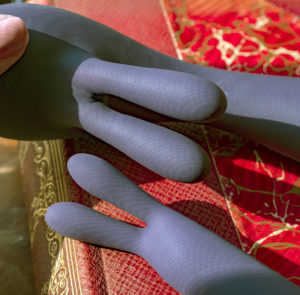 softer, much more malleable silicone. A huge change from the harder shored ones attached to the FiFi.
Basically, this thicker, softer silicone caused a dampening of what are otherwise, rumbly vibrations. Which prevented the always-power-hungry me from enjoying the Rabbit Bullet as much as I had the version of the "bunny-ears" found on the FiFi.
The Je Joue Rabbit Bullet would be better suited to those who enjoy a softer kind of vibration.
The Je Joue G-Spot Bullet – You, do You, Babe!
Okay, let's clear something up, who decided we should "crossbreed" a G-spot dildo with a bullet vibe? It's a mystery to me from where or whence this idea originated. Logistically speaking, it just doesn't make sense. Yet, we see more and more brands including them in their line-up.
I get that the bulbous head and crooked-finger shape might vaguely resemble their larger G-spot contemporaries in shape, but really, that's about far as it goes. Otherwise, there's just not enough length, curve, or girth, and let's not forget the lack of suitable grip, for this toy to work for me any real G-spot capacity.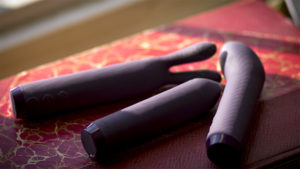 In fact, l say the bent tip of the Je Joue G-Spot Bullet is way better suited for targeting the clitoris, as opposed to the intended G-spot. This tip was primarily the reason why the G-Spot bullet turned out to be my favorite vibrator, out of this trio of bullets. Little wonder really, you know I took full advantage of its swollen, curled-up tip. Utilizing it in all of my ultra-pin point endeavors. Completely ignoring that it had been marketed as a G-spot toy.
Take this as a reminder, there is no "wrong-way" to use a toy, as long you're being safe. YOU do YOU!
Je Joue Bullet – The Midas Touch?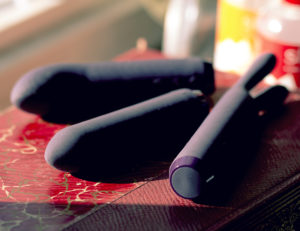 Last, but not least, well I guess, technically it is the smallest, is the Plain-Jane, Je Joue Bullet.
There's something you should know about me when it comes to bullet vibes. See folx, I just can't help but measure every one I come across against, what is, in my opinion, the gold standard of bullet vibrators: the We-Vibe Tango.
The Tango is like finding an amazing lover that nobody else can live up to because now you know what's its like to have the best.
So, I bet you're dying to know, how did the Je Joue Bullet measure up? Well, after several side-by-side comparisons, the Je Joue Bullet didn't quite meet the lofty heights of the Tango's infamous rumble, but I will say this, it held its own against the "living" legend. I could easily see me using the Je Joue Bullet as a backup vibe to my Tango.
To get more technical, out of all five of the Je Joue Bullets' steady speeds, (the type I enjoy most,) only the highest setting can compete with the level of rumble found in my beloved Tango.
To be fair though, comparing the other four is like comparing apples to oranges. This is because Je Joue's Bullets have a wholly unique style of steady vibrations. They are distinctly different from every other brand of steady vibrations I've experienced so far.
Red-Light, Yellow-Light, Green Light, Go!
So what do I think? Do these bullets get the green light? Do they get a passing grade? Yes, of course, I recommend them all! They are easily worth $59.99. To be honest, there are way weaker and lower performing toys selling for double and triple the price. At this price, they are a bargain.
So, as a self-described, bullet vibe devotee, do I feel confident in recommending all three Je Joue bullets? Actually, yes, they've already found a cozy home in the top drawer of my bedside table. The one that houses my ever-growing stockpile (hoard) of favorite bullets, and yeah, I just did another small-seated happy-dance.
Rah, rah, gooooo Je Joue Bullet Vibes!
---