I finally went and did it, ya'll. I've officially ventured into the world of realistic dildos. And as you can plainly see, I didn't just dip in a tentative toe or two. No siree, I dove in headfirst. Straight into the deep end, with this extraordinarily high-detailed design from Blush Novelties; The Magic Stick, from their economically-priced, platinum silicone line, Ruse.
Anyone else, find yourself humming the long-forgotten, Lil' Kim/50 Cent collaboration, by the same title? Anybody? Really, no one? Okayyy…ahem…alrighty then, moving right along.
The Elephant In The Room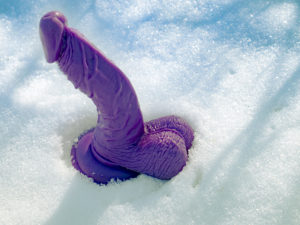 Be forewarned, this is a dildo you might want to pass up if lifelike "throbbing veins" and authentic-looking crinkly ball sacks, wig you out in the slightest. The hyper-realism of the Magic Stick is not for the faint of heart.
Really, though, have you peeped the details on this dildo? That, my friends, is what I call some freakishly anatomically correct silicone, right there! I mean, aside from it being bright purple, this dildo could easily have been cloned from an actual penis. Who knows, maybe it was? All I know is it's graphically detailed, starting at the subtle indentation of the urethral slit, to the gorgeously rounded swell of the coronal ridge. All the way down to its swollen veins, and wrinkled lines of the scrotum.
You may be thinking, "But why did you choose, this specific toy, as your initiation into realistic dildos?" The answer's rather straightforward and simple, really. And no, it's not that 50 Cent nor Lil' Kim, for that matter, is one of my favorite rappers. (If you really want to know, I'm more of a vintage era Eminem girl myself.) It was primarily the thought of having a go with what I've lovingly dubbed the Magic Stick's "Elephant Truck Curve." Followed up closely by the Magic Stick's unbelievably modest cost. More on that, a bit later.
Let's start by talking specs. Yes, I've repeatedly stated, the Magic Stick is insanely detailed, but what it isn't is, off-the-charts huge. Instead, it's more of what I'd call your-average-sized dildo. A plausible reason behind why I didn't feel as intimidated by this toy's remarkable degree of realism. Like I have been by other realistic models, in the past.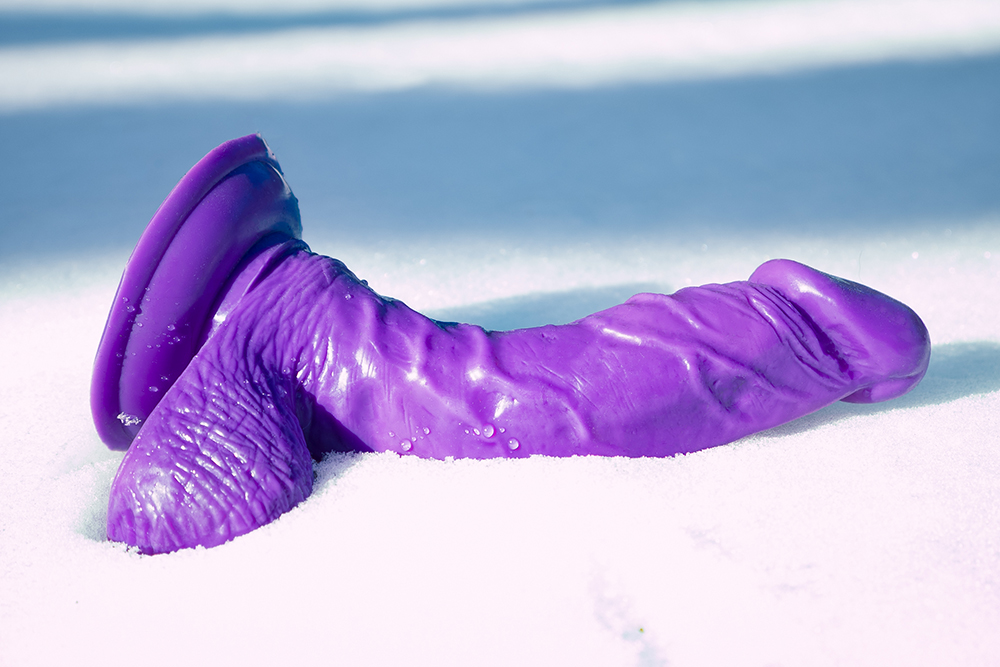 In fact, it is your "Average Joe" of dildos, with 7-inches of total length, and only 6 of those insertable, combined with a rather ordinary thickness of 1.5-inches. In words made famous by the porridge pilfering blonde, Goldilocks, the Magic Stick is not too big, or too small "it is just right."
But is it body safe? Yes, you can rest easy, the Magic Stick is 100% body-safe, and made from a single density, platinum-cured silicone. Which is smooth and has a bit of a sheen. As for hardness, by my estimation, it is pretty similar to the BS Atelier G-Spot. Which is a bit squishy and fairly malleable. Or if you're familiar, with Tantus's silicone, it's somewhere between Tantus's original formula and their new single-density Super Soft™ silicone.
The Exception To The Rule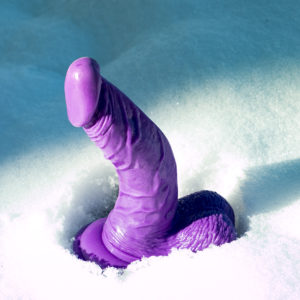 Some truth, at first blush, I feared I'd be underwhelmed by the Magic Stick's tapered glans head. I doubted its ability to be found satisfying by me. This was based solely on past experiences. I prefer dildos that have a broad head, in combination with a bulging coronal ridge. Of course, there are always exceptions to the rule.
Any trepidation I had about the Magic Stick, was swiftly annihilated, after my first time using it. The exaggerated upward bend, combined with the extra stimulation added by the veiny texture of the shaft, felt beyond superb! I was also caught completely off guard by how much I enjoyed utilizing the Magic Stick's suction cup capabilities.
Prior to using this toy, I've always found suction cup toys awkward and difficult to maneuver, in any pleasurable sense of the word. Trial runs ended with me throwing my hands up in frustration and a vowing I'd never do that again. Yet, the Magic Stick's "Elephant Trunk Curve" makes the process much more manageable. This is the first toy I've been able to employ hands-free while in the shower. I can conveniently stick the dildo on the shower wall and simply shimmy my rear-end into doggie-style position. It's really great, I love it!
How much would you guess a dildo like this runs? What do you think $125, $100, or what about $75? You'd think it'd be at least $50 dollars, right? That sounds fair, but you'd be wrong. But, if you guessed $26, you guessed right. I know, unbelievable, right? We're lucky enough to be a part of the generation where one can get a platinum-cured dildo, with a suction cup for a mere $26 dollars!
The Blush Novelties, Ruse Magic Stick is a steal at that price! I definitely recommend it to those who are in the trial and error phase of sex toys. Or rather still learning what they like and don't like. But, I also, think it stands up nicely against any of the brands out there. Novice and pro alike, the Magic Stick, is a solid, affordable choice.
---
Get your Blush Novelties Ruse Magic Stick at these fine sex toy retailers: Peepshow Toys, SheVibe, & Luvoqa.

Use Code BACKWOODS10 For 10% OFF.