Okay, I have to make a quick confession. The Noje W3 is one of the rare instances where the size of a toy took me by complete and utter surprise. This was due in large part, to a (slightly-embarrassing) oversight of mine. My failure to read the product guide in its entirety.
Another factor, which led to this severe misjudgment of the Noje W3's size and scale, stems from my (wrongheaded, but) almost automatic association of the term "wand" with the more stereotypical, corded behemoths. Yes, I'm talking about those universally adored giants, like the iconic Magic Wand, the beloved Doxy, and the New-Wand-on-the-Block, the Le Wand Massager.
This misconception caused me to erroneously overlook the fact that wands come in a multitude of shapes and sizes. Please, forgive me, if I'm only human.
Yep, as a sex toy reviewer, you'd think I'd instinctively remember to check a toy's dimensions. It should be second nature by now. Especially, since I am hyper-aware of how even the smallest miscalculation in proportions, can turn out to be a massive deal-breaker. I believe it's fairly self-evident as to why this practice is a prerequisite in the case of dildo shopping. Yet, on the other hand, when talking about vibrators, it's somehow easier to underestimate the importance of proportions in correlation to a toy's compatibility. We're all susceptible to making misjudgments in scale. When they're based on images alone. Yes, even me.
The Nano Wand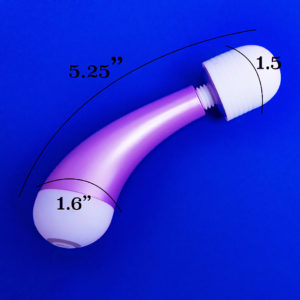 Allow me to suggest a few crucial factors to consider when shopping for a vibrator. The toy's potential for discretion, its maneuverability, and its total weight. Which is of particular importance for anybody who's looking to avoid the hand fatigue a weightier toy can induce. Obviously, these suggestions don't cover everything. Still, yet, each of these examples points us toward how essential it is to make a habit of carefully reading every product's description. Before making a final purchase. That way there won't be any unexpected surprises.
Still, I somehow failed to follow this simple, self-imposed protocol of mine. So upon its arrival, the Noje W3's size caught me completely off-guard. Sporting dimensions that placed it on the complete and total opposite end of the wand spectrum, that I'd initially assumed it belonged. Like a tiny Yin to it's larger, more recognized, counterpart's Yang.
The Noje Wand beautifully represents the Ultra-Mini category of wands. A genre of miniature wands that continue to blow me away with their unexpected twist of small stature and surprisingly powerful vibrations.
The Noje W3, is lightweight, weighing in at 2.4 ounces. It's what I'd call a "Nano Wand." At a mere 5.25″ in total length, with a slightly curved ABS handle, and a removable 1.5-inch silicone-coated head. We're talking about a toy that's perfectly proportioned for tossing into a makeup bag or purse. Ideal to use as a travel wand, on those occasions where your clunky Magic Wand or hefty Doxy is just too unwieldy or impractical to lug around. Plus, at this price point, you won't be out a huge chunk of change, if you lose it along the way.
A Quick 180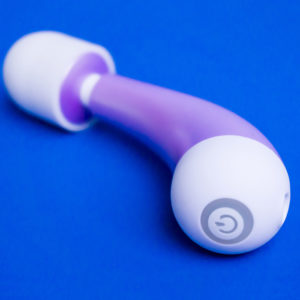 The Noje also provides us with a prime example of the old adage, don't judge a book by its cover, in action. Let's be real. Smaller, lower-priced toys, like the Noje W3, are often overlooked or mistakenly judged as cheap and inefficient at producing orgasms. A lot of times, they're completely disregarded. Based solely on these superficial elements alone. Which is no wonder, considering how in our consumer-based society, we've been programmed to believe, bigger is better. Along with the myth, that a heftier price tag, equals a more luxurious a product.
Deep down, I guess, even I, wasn't expecting much from the Noje. I hate to admit it but based on my instincts, along with the Noje's combination of low price ($35.99) and small size. I'd already begun mentally preparing to endure the unsatisfying task of testing a buzzy vibe. A chore I've come to overwhelmingly dread. There's no quicker way to turn the pleasurable act of masturbation into a punishment, than a damned buzzy vibrator.
So you could imagine my surprise when I turned this little wand on and it had some major rumble game. I'd love to have been a fly on the wall. Watching as my face transformed from pure, jaw-dropping shock to a knowing grin. The grin, because I knew this was going to be good. My expectations for the Noje had done a quick and total 180.
The strength of this little vibe was totally unexpected. I was shocked to discover that each of its 10 settings (5 steady vibrations and 5 patterned) were powerfully penetrating. Discovering, that unlike larger wands, with bigger heads, the Noje makes for a much more clit targeted interpretation of the wand. This wand's smaller head covers a lot less surface area than the more typical, larger wands. Creating a more clitoral focused type of stimulation. This, my friends, is exactly the reason why I love it!
Beyond small complaints, like a weak magnetic connection, between the toy and the charging port, and a slight wish for a more nuanced method of control, I'm completely blown away by this little toy. Blush Novelties, with the help of everyone's favorite sex educator, Ducky Doolittle, have really upped their game!
You Spin Me Right Round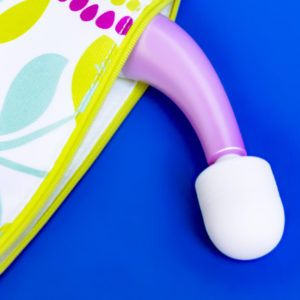 I still find it incredible that I found a toy under $50, actually under $40, that can compete with my favorite clitoral vibes. Imagine, a tiny little wand capable of giving me strong, pin-point orgasms. On demand! This turns my preconceived notion of "wands" completely upside down. See, I don't usually equate wands with pin-point clitoral stimulation, but that is exactly what the Noje delivers. This is a new way of thinking for me.
All of that said, I definitely wouldn't recommend the Noje to those hardcore, mega-wand lovers who look to the stereotypically larger wands to provide a more broad type of stimulation. They would be sorely disappointed with the Noje's performance.
I also wouldn't recommend the Noje to those classic wand enthusiasts who prefer a deep, deep tissue type of stimulation. They too would likely be let down by the Noje's performance. But, if on the other hand, you enjoy rumbly pin-point vibrators, like the We-Vibe Tango, We-Vibe Touch, or any of the other similar, smaller clit-tarted vibes. I think you'll be more than happy with your $35 investment into the Noje W3.
Hey, I'll be the first to admit that it can be difficult to ignore our subliminal programming. After years of exposure to a constant stream of advertisements. It's sometimes difficult to be open to giving smaller, more affordable products a fair chance. But trust me, if you can, especially in the case of Blush Novelties Noje W3, I have to believe that you'll not regret it!
---