If you've followed along with me on this journey of sex toy trials and errors, you'll know that I have what some might call, a pie-in-the-sky obsession, with finding the "perfect" dual-stimulation vibrator. In truth, I'm not sure what sparked this obsession. Maybe it was that infamous episode of Sex And The City or it could more simply be that sex toy manufacturers continue to create rabbit-vibes in newer, quirkier shapes and sizes.
Ones that sometimes tempt me, leading me to give them a dubious side-eye. Occasionally even causing me, against my better judgment, to dare to think, "Hmmm…maybe this could be the one, just maybe?"
It Speaks To The Soul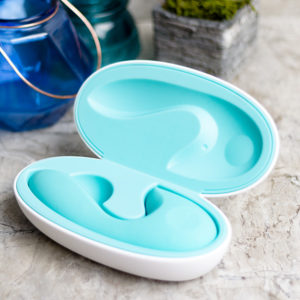 Be it, whatever it may, the first time I laid eyes on SenseMax's SenseVibe Classic, I just knew I had to try it. Mind you, this was before I'd even seen its innovative carrying case, slash, charging port. And let me tell you something, from the perspective of one of those kids (nerds), you knew back in middle school, who loved briefcases, and imagined carrying one made me look uber important, the storage case is freaking impressive.
Something about the charging case's simplistic elliptical design implies a futuristic almost space-age(ish) aesthetic. Which serves to further satisfy the raging Sci-Fi lovin', Star-Trek watchin' geek that I truly. Basically, what I'm trying to say is the SenseVibe's storage/charging case speaks to my very soul.
Just in case you missed it, amongst all of my fawning, let me say it again: The storage case doubles as a toy charging port and I love it! Simply plug a mini USB cord into the port in the back and you're all set. Shoutout to SenseMax for not going with a proprietary dongle.
But that isn't the only thing that delights me about the storage case. I also revel in the way that the plain white, outer- shell opens to show an unexpected dash of color. One that mirrors the color of the toy itself. Which In my case is a gorgeous shade of turquoise, that reminds me of a travel brochure for some exotic, tropical island resort.
Enough Geeking Out About The Storage Case.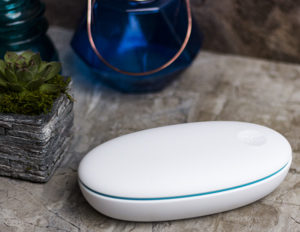 I have to hand it to them, SenseMax managed to take a style of toy that is typically over thought and overdone and successfully boil it down to just the basics. By that, I mean a lot of rabbit-style vibes feature twirling arms, spinning beads, or rolling pleasure balls. While the SenseVibe is a simplified silhouette. Reminiscent of "a check mark" or the Swoosh symbol from that shoe brand that implores us to "Just Do It!". The closest toy to resemble this shape, in recent memory, is L'Amourose's Rosa vibrator.
Besides the contemporary design, I like the SenseVibe's seamless silicone skin and the positioning of the control buttons. I also appreciate the subtle nod to frequent flyers. By not only including a storage case but also giving users the option to engage a safety lock. A feature, that in my opinion, is still not found in enough toys.
Now on to the big reveal. Is the SenseVibe Classic the last piece of the puzzle that I've searched for? Does it dovetail perfectly with my anatomy? Is it that perfect storm of lengths, diameter, and vibrational strengths I've always dreamed of finding? I so badly wanted this to be the case.
What's Your Problem?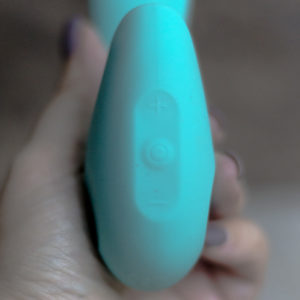 Similar to the JeJoue FiFi, it comes pretty damn close. Orgasms with the SenseVibe Classic were not in short supply. I managed with little effort to get off every time I used it. The insertable-arm bows adequately enough. Easily targeting my g-spot. The length and girth give me no cause for concern. No painful cervix ramming, I'm happy to report.
Understandably, you may be wondering, "So what the hell's the problem then?"
It just so happens, one of my problems with the SenseVibe Classic is just the patent reversal of the complaint I lodged against the JeJoue FiFi. I'm absolutely in love with the hardcore rumble of the SenseVibe's internal arm. Which, by the way, works fabulously as an off the label clit vibe. Meanwhile, the external nub, which was designed specifically for clitoral stimulation during insertion, could use a heck of a lot of zhushing up.
Where, if you remember, my experience with the Je Joue FiFi, was the complete opposite, with the external, clitoral arms being little powerhouses of pleasure and the internal arm being the weaker link.
The only other slight bump in the road, is due, in large part, to my genital configuration, not the SenseVibe itself. If I've said it once I've said it a thousand times; in the world of sex toys, and more specifically dual-stimulation vibes, mere centimeters can seem like unbridgeable gaps. It can be maddening.
That being said, my clitoris is not really positioned all that close to my vaginal opening. Which works out to mean, the short nub-like, external-arm, of the SenseVibe barely reaches my clitoris. I experimented until I found the surefire way to orgasm with the internal arm inserted. Pulling up on the vibrator and squeezing my legs together wound up being the right recipe for orgasm.
It Ain't Over 'Til It's Over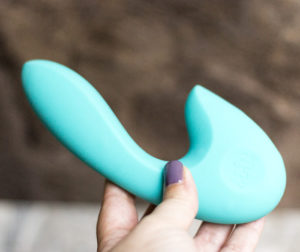 Taking all things into account, I still think the SenseVibe is a solid vibrator and certainly a practical choice for people with the right genital configuration. More specifically, a clitoris located closer to the vaginal opening. I look forward to seeing what SenseMax, as a company, will bring to the table next.
As for me, all is not lost. With each new experience, I'm gaining the knowledge of what my ideal rabbit vibe will look like. So far, I know it has to have rumble in both arms, a longer, wider, flexible clitoral arm, and preferably a hard, curved insertable arm. I know it exists out there somewhere. So the hunt will continue.
---