The OhMiBod, Cuddle Mini, plays Skipper to the OG version's Barbie. Like a "Fun Sized" edition of my favorite candy bar, it is identical to its larger counterpart in almost every way. That is, except for dimensions. Basically, the Mini shares all the original's classic features. Just in a cuter, slightly more compact version. The result is an inconspicuous little vibe that's perfect for travel or any other scenario where privacy is a priority.
OhMiBod, the company, that created both versions of the Cuddle, is headed by a tech-savvy, husband-wife duo, Brian, and Suki Dunham. They started gaining notoriety for the creation of their critically acclaimed app controlled vibrators. Beginning with the launch of their "I-Pod Vibrator" in 2006 and continuing through to today with their award-winning blueMotion toys.
The Cuddle Mini, is just the latest offering from OhMiBod's "Analog" line, Lovelife. A collection of affordable-luxury toys, that stands as a silicone-coated ode to the Dunham's long-standing relationship (30 years). With each of the toys' names symbolizing elements, they both deem essential to the longevity of their partnership. Among the names is Adventure, Smile, Share, Discover, Dare, and Dream.
Affordable-Luxury?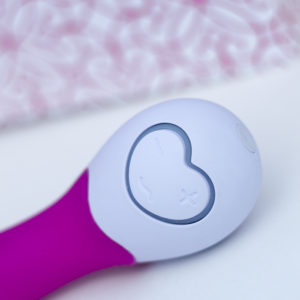 I know you might be scratching your head right now, thinking, "Affordable-luxury, huh? How is that even a thing!?" I agree it sounds like an oxymoron. Yet, I assure you OhMiBod pulled it off with their Lovelife line. They somehow managed to craft a collection that showcases a beautifully packaged line of rechargeable, splash-proof, silicone toys.
While simultaneously maintaining an astonishing level of toy diversity within the line. Which includes virtually every type of toy, from kegel balls and vibrating cock rings to butt plugs and double and even triple stimulation vibes. All of which are affordably priced under $100 at Luvoqa.
As if the Cuddle Mini's dainty size isn't charming enough all by itself! OhMiBod went above and beyond. Serving up another huge helping of cuteness, with its emoji-inspired control panel. A fun little detail that a number of their toys possess. This, coupled with the line's signature shade of pink, undoubtedly, may be too saccharine for some tastes. But to each their own, I say, because personally, I find the quirkiness makes the Cuddle Mini that much more endearing.
Coming in at a slight 4.7 inches in total length, with only 3.5 of those insertable, and a decidedly smaller than average diameter of 1.1 inches, The Cuddle Mini, is undeniably one of the smallest, if not the smallest vibrator, I've seen marketed as a G-spotting toy. Unfazed by this and putting aside the fact that I've never been a huge fan of internal vibration, I gave insertion a fair shot.
The results were less than optimal. I should have easily anticipated the outcome. Generally speaking, I found the combination of the Cuddle Mini's small handle and its limited insertable length, incompatible with my short arms. It was awkward and getting me nowhere fast in the pleasure department.
Not So Fast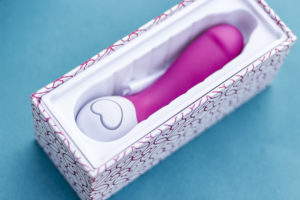 Hold up there, wait just a minute, don't count the Mini out just yet. Clitoral stimulation is where the Cuddle Mini really shines. It may be small, but it's most assuredly not weak. Actually, this is where I made the perplexing discovery that the Cuddle Mini seems to have an even rumblier motor than the Original Cuddle. After repeated side-by-side comparisons, I feel confident saying the Mini's surpasses the OG in the vibrational strength department.
I'm just as surprised as you. That's not something I'd bargained for.
Even more extraordinary, the difference in price between the Cuddle Mini and the OG is a mere $10, not that I'm complaining. I think we can all agree, that's not a substantial difference. Most likely ten dollars is not going to make you or break you.
As a result of this, cost becomes less of a factor, leaving the basis of your decision on which to buy resting solely on your particular propensities alone.
There are a couple really important factors to take into consideration before deciding which toy to buy. Beyond the Cuddle Mini's superior level of discretion. Ask yourself this, which is more important to you, G-spot stimulation or external clitoral stimulation?
More Than A Pretty Face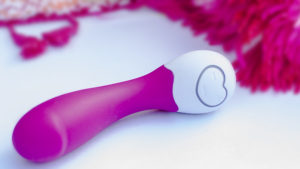 The Mini is far and away the stronger vibe of the two. The better option for anyone who enjoys or needs direct-clitoral stimulation. The only downside is that the Cuddle Mini is unquestionably small, limiting its effectiveness for internal G-spot stimulation. Meaning it's probably not the best choice for that specific purpose.
So if G-spot play is a higher priority, the original OG Cuddle probably better suits your needs.
The Lovelife line and the Cuddle Mini, in particular, certainly have a sugary charm about them, but don't let that fool you. To be completely honest, I may have underestimated this little vibe myself. Take it from me though, The Cuddle Mini is certainly more than a pretty face. It has real substance. As a matter of fact, I'll go as far as to say that it's a serious contender. One, that can hang with the best clitoral vibrators out there. Of Course, it's getting my official stamp of approval.
---
Get your OhMiBod, Cuddle Mini from luxury sex toy purveyor: Luvoqa