We're all well of the existence of the teeth-jarringly powerful, full-sized wands out there. Their stellar reputations precede them and lead to them receiving a ton of good press. And, while they're undeniably some of the best broad-stimulation products one can hope to own, they also come with a pretty hefty, price tag.
That, and let's be honest, their cumbersome size, the restrictiveness of their electrical cords, and sometimes their hard-to-keep-low-key noise level, prevent them from being the most discreet option available.
So with this in mind, I've set out to shine a light on some lower cost, and hopefully quieter alternatives, in the mini-wand category. Surprisingly, I'm already discovering these little guys can hold their own against their famous, full-sized cousins. My experiences with The FemmFunn Rock It have only heightened my expectations and excitement for the future of the mini-wand genre.
Don't let the Rock It Wand's small stature fool you. Even though it's cute, pink, and petite, at a mere 7.5 inches in length and only 1.5 inches wide, it has some major rumble game going on.
Takin' Me Back
The wand's hot-pink color brought back some serious early 90's nostalgia.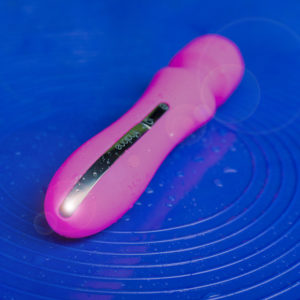 I'm usually not too keen on pink sex toys, in general. Viewing it as an outdated and overdone aesthetic. Not to mention that it comes across as a bit sexist. Yet, strangely enough, the Rock It's genuine, Neon Pink shade seemed to strike a chord with me. Taking me back to a (thankfully) short-lived period of my past when I thought everything was cooler if it came in some eye-assaulting shade of neon.
The Rock It Wand would have complemented nicely with nearly everything I owned circa 1991. Especially, my gaudy, yet highly coveted, as any child of the 90's can attest, L.A Gear high tops. In fact, it's the exact shade of a favorite, long lost jacket. Smh, at my preteen fashion choices.
The Rock It comes equipped with a strong, yet stunningly silent motor. One that its creators assure us never reaches beyond 50 dB. Without the proper equipment to test this claim, I'll have to take their word for it. Its smooth outer shell is constructed with a seamless layer of silicone, making it not only USB rechargeable but also 100% waterproof. All features we've come to expect in the modern era of sex toys.
Too Legit To Quit
While these features are great, the FemmFunn Rock It also includes a unique Touch Control feature. As I've mentioned in prior reviews, I'm prone to be skeptical of these "New!!!" features. Often equating them, with a gimmicky sales hook. Maybe I've just wasted too much money on late night infomercial products, that never lived up to their hype, and have become slightly jaded with such marketing promises.
Whatever the source of this lingering skepticism, I'll freely admit, I was wrong in this instance. The Rock It Wand's Touch Control feature is the bomb, baby! I love it. This feature is optional and can only be engaged by pressing and holding the T marked control button. Once you've activated this feature the bendable head becomes "touch sensitive"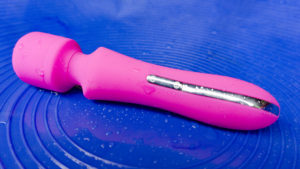 Similar to the Luxe Touch-Sensitive vibrator, the Rock It Wand vibrates only when in contact with your skin. The application of pressure on the bendable head activates the vibrations. Ideal in tight quarters, where privacy is hard to manage. The vibrations will stop abruptly upon removal of applied pressure. Perfect for when someone barges in unexpectedly.
It's also a nice feature when using the Rock It Wand with a partner. In the heat of the moment, you don't have to stop and fumble with the power off button. We all know the annoyance a vibrator can become when it's lying abandoned on a mattress or the floor. I would really love to see this technology become mainstream.
The Total Package
This powerful little wand had no trouble, guiding me to orgasm after orgasm. Favoring the three steady vibration settings, over the four rhythmic patterns. The Rock It includes the perfect mix of settings. Really, all the variety that you're ever going to need is included its seven options.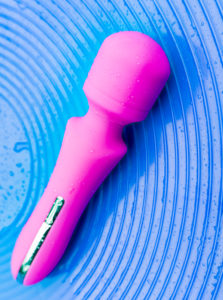 In a world saturated with sex toy options, I realize it can be difficult to narrow down which product is worth the investment of your hard-earned money. There is a myriad of factors to consider. From the sizes and shapes, of both our bodies and the toys themselves, to privacy and price points. All things considered, I would definitely recommend the FemmFunn Rock It Wand to those looking for a discreet, waterproof, rechargeable, mini wand.
I'm astonished by the quality of the Rock It Wand. It's a perfect, entry level wand.
I hope we continue to see a widening selection of quality-made, mini wands come on the market. If they meet and maintain rivaling levels of strength, they'll be sure to give their larger counterparts a run for their money.
While simultaneously making me reconsider my staunch alliance with their even smaller, pin-point counterparts.
---