The Duchess is a dildo that appeals to the senses. From its gorgeous, blue-to-white, ombré color. To the undeniably satisfying squish of Tantus's Super Soft™ silicone encasing the firm, inner-core within. Culminating with the magnificent feeling of maximum fullness that its 1.8 inches of diameter offer.
If you happen to be new to the sex toy scene and in search of the crème de la crème of dildos, then let me direct you to Tantus, the creator of the Duchess vibrating dildo.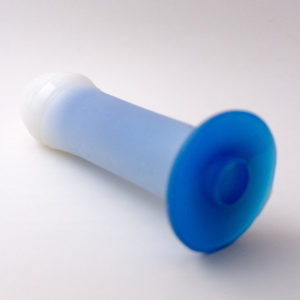 Tantus is a current industry leader, founded by Metis Black. A pioneer, in the industry's nearly twenty-year push toward safer sex toy production. Her mission began with a revolutionary new idea: Putting the highest-quality, body-safe, silicone, sex toys into the hands of mainstream buyers. Which up until 1997 hadn't been easily accessible to those out of "the loop" so to speak. During this era, jelly dildos ruled the day.
Due to the success of Black's vision, today, Tantus, is well on its way to cornering the market in premium, silicone dildos.
Their dildos are made of 100% ultra-premium silicone. Created with both, ergonomic and anatomic, awareness. By a company that's equally concerned about of the impact they make on the environment. Meaning Tantus's dildos are not only body-safe they are also Earth-friendly. What more can you ask for?
Tantus not only prides itself in quality, they are also continually striving toward new, highly creative ideas to add to their toys. An example is the O2 Dual Density line, that the Duchess is a part of. The Duchess, like all the O2 toys, has a firm, inner, silicone core encased by an outer shell of Tantus's proprietary Super Soft™ silicone. This outer layer is super squishy, and as stated earlier, satisfyingly so.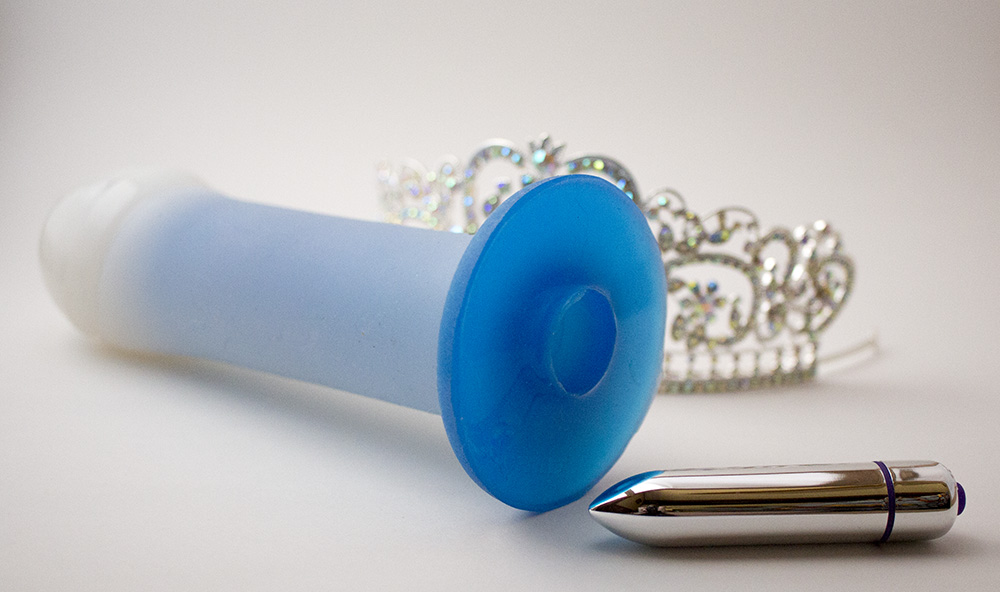 While the Duchess is non-realistic in appearance, with a smooth shaft, and a limited amount of detail. It makes up for this lack of texture, via the realistic feel created through the combining of its two silicone densities. This skin-like softness also helps to make the slightly above average girth of the Duchess more manageable. That along with an abundance of water-based lube.¹
The Duchess is what I would call a little above the average in the size department. It's more than ample with 6.5 inches in length and a girth that maxes out around 6 ½ inches.² The thickest part, the head, generates a spectacular source of g-spot and p-spot stimulation. Yum.
With a price of $106.00, I realize the Duchess is more of an investment piece when compared with some of the more affordable dual density sex toy lines. Yet, with proper care and maintenance, this is a dildo that you can get years of use and years of pleasure from. Tantus dildos are made to pass the test of time.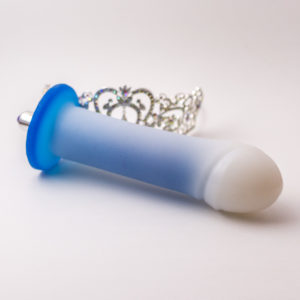 Not only is the Duchess durable, it is feature rich. It doubles as a vibrator. With an opening³ in the base for the included, bullet vibe.
Though, as is often found with similar models, the We-Vibe Tango makes a perfect companion to the Duchess. Delivering an increase of intensity, the included bullet just can't touch.
The Duchess's flared base also means that it's harness compatible and safe for anal use. So, all in all, you're getting a toy that can be used in many situations. Features that run the gamut of uses. An all-around type of toy or rather a swiss army knife of sex toys.
The Dutchess is a perfect addition to my growing arsenal of pleasure utensils. Well worth the higher price.
¹Always use water-based lube with silicone toys. To avoid breakdown and damage to the silicone toy.
²With a diameter of 1.8 inches, the Duchess may require a warm-up dildo. Working up to its larger girth. (6.5″)
---
Get your Tantus Vibrating Dildo at the fine sex toy retailers: Tantus, Peepshow Toys, Luvqoa, & SheVibe,