I don't know why it took so long for me to learn my lesson. The one where I concede that I can't just look at a sex toy and know if I'm going to like it. (Hey, you have to admit, it would be a cool superpower, though.) The cold hard truth is starting to sink in. It only took me completely underestimating the strength of the We-Vibe Tango, and then having my high expectations for both, the Fun Factory Layaspot and Bi Stronic Fusion, utterly and completely dashed, to figure this out. Yeah, I'm a little hard-headed.
Look Before You Leap
The B Swish Bthrilled Classic Wand could quite possibly be the final nail in the coffin of this misconception of mine. You literally can't judge a book by its cover or a vibrator by its looks.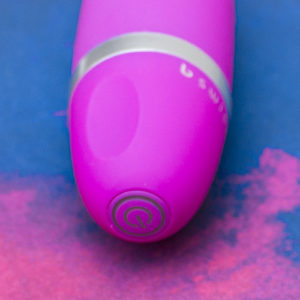 While I've never claimed to be a wand girl and my preferences align more with the pinpoint stimulation found in powerful clitoral vibes. I'm always open to expanding my horizons. As long as the motor is rumbly and deeply penetrating, I'll be a happy camper.
In the case of the B Swish Bthrilled Classic Wand, I'm lucky I didn't allow my wrong-headed presumptions stand in the way of giving it a try. If I had, I would have missed out on this cool little wand.
I guess it's just my nature to be a skeptic. Maybe I'm more of a "cup half empty" type of girl. Because right off the bat, there were a couple of things about the B Swish BThrilled Wand I perceived as possible negatives. One, it's a wand, not my toy of preference, and two, it runs on triple A batteries. Somewhere in the back of my mind, I imagined a toy that runs on such a small-sized battery couldn't be very strong.
Powerful In Its Own Right
Well, I couldn't have been more wrong. This little eight-inch wand is packing a punch. Each of its five functions are on the rumblier side of the spectrum. Admittedly, it's not on the same level of let's say, the notoriously powerful Magic Wand or a Doxy, but damn for a battery-operated toy, I'm impressed.
Not only I'm I happy with the Bthrilled wand's strength, I also enjoy the silky smoothness of the silicone used to form the bendable head. So nice to touch and since it's made of silicone that means it is also non-porous. Making it way more hygienic and easier to keep clean.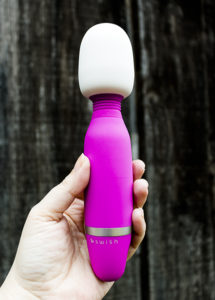 The wand's lighted, control button is placed on the bottom of the ABS plastic handle for easier access. Since there's only one button, there's no fumbling around and hitting the wrong one. Plus, the lighted feature makes it convenient to find when the lights are out.
While I'm pleased with the overall performance of the Bthrilled Wand, I did encounter a slight bump in the road. The first time I placed the batteries in the compartment and tried to screw the lid back on I had some difficulty getting the cap aligned properly. Then when I pushed the power button, the light came on, but the vibrator didn't vibrate. After removing the batteries and replacing them, I started to worry that my wand was broken. Finally, after hitting the handle against the meaty part of my palm it powered on. I've had to do this several times since.
Happy Ending
Due to the problem of my Bthrilled Wand malfunctioning, I decided to reach out to BSwish through email and ask about the issue I was encountering. I'm happy to report they were quick to respond and offer a replacement wand. As well as offering an explanation.
According to the company's representative, BSwish is aware of this problem occurring with some of the first batches of Bthrilled Classic Wands and are willing to send replacements to those who've purchased a faulty one. So kudos to BSwish on their customer service. That itself is something I consider important when deciding whether to recommend a product to my readers.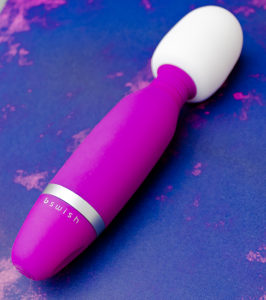 As I said earlier, I've finally learned my lesson about preconceived notions. There is really no way to tell whether a toy will be want you want unless you try it. Unless of course, you read someone else's account. This is where I hope to be of assistance. Hopefully making your experience with sex toys more hit than miss.
I feel confident recommending the Bthrilled Classic Wand since B Swish is standing behind their product and sending a replacement. Taking into consideration this toy's, overall quality, strong vibrations, and the fantastic customer service, I feel you get a lot of value for your money. This wand is priced for $31.00 right now on Peepshow Toys. Which I view as an incredibly affordable price for such a well-made toy.
The Bthrilled Classic Wand is an ideal toy for those on a budget or just dipping their toe into sex toys. A perfect starter wand, before moving on to the more expensive rechargeable ones.
---
Get your B Swish Bthrilled Classic Wand at Peepshow Toys, SheVibe.
Use code: BACKWOODS10 for an additional 10% OFF