You've probably heard those old clichés, a time or two. The ones that declare a girl can never have too many shades of lipstick, designer handbags, or amazing shoes. While of course, the raging femme in me tends to agree whole heartedly. I'd also like to amend that list just ever so slightly. Updating it to reflect the lifestyle of modern day femmes. By adding clit vibes to the list of "Can Never Have Too Many Of".
I honestly believe one good clit vibe is never enough. Nor two or three, for that matter, and even though I may adore my, We-Vibe Tango and my beloved We-Vibe Touch. What if, when they're needed most, their batteries are dead and to make matters worse, I've forgotten the charging cord at home? Due to this (probably, slightly irrational) fear of mine, I always want to be ready with a backup plan. So I'm constantly on the lookout for viable alternatives to add to my clit vibe line-up. A pinch hitter of clit vibes, per say.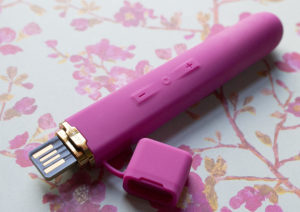 The Crave Flex fits nicely within the parameters of what I look for in a clitoral vibe. Ticking off all the right boxes. It's coated in a body-safe silicone, it's USB rechargeable, waterproof, and has twelve levels of intensity and pattern. So naturally, when the wonderful folks over at Vibrant offered me an opportunity to review the Crave Flex, I couldn't let it pass.
First Impressions
When reviewing a new sex toy, way before I've ever had a chance to try it out, I'm using my sense of sight and touch to form my first impression. Straight out of the box, I was wowed by the air of luxury given off by the Flex. Finding myself enjoying its simple, yet elegantly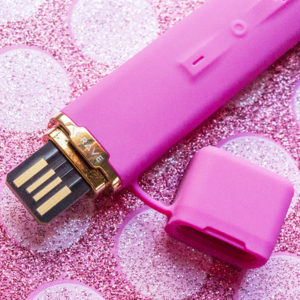 tapered form. So seductively drenched in a thick, velvety layer of silicone. My fingers sliding smoothly across the golden band engraved with the word Crave. A particularly eye-catching detail, indeed.
Going on to notice that there is no cord included with the Crave Flex. At first, I was baffled by this, but after looking at the eco-friendly, minimalist packaging and reviewing the instructions. I realized the Flex doesn't need a cord. It has built-in, USB docking capabilities. Due to this unique design, the Flex can be plugged into any USB port. That means you can even plug the Flex into your laptop and it will be charging while you are browsing the web.
Genius! I love it! No more cords to keep track of. I can truly slip the Flex into its little suede case and toss it into my handbag with not a single cord to worry about. Easy peasy
All-Star Line-Up
I'm certain I've made my love of pinpoint, clitoral stimulation abundantly clear throughout this blog. If given the choice between a broad stim wand or a clit vibe, the latter wins hands down, every time. The more rumble, the better. It's just a personal preference of mine. So I think it's fair to say, I have some experience in this area.
When compared with my clitoral vibe all-stars, the We-Vibe Tango and the We-Vibe Touch, the Crave Flex isn't as intense. I'm not 100% sure why, but I can only assume part of the reason for this, is the thickness of the silicone deadening the strength of the vibrations. You'll even find this happening with the We-Vibe Touch. The flexible silicone tip of both, the Flex Crave and the We-Vibe Touch, sadly sacrifice a portion of their motors' vibrational strength.
Even with this small decrease in vibrational intensity, I didn't have a problem with the Flex bringing me to orgasm. I did, however, find that it took the highest setting of steady vibrations to get me there. I also found, my preference for the steady vibration settings far outweighed the patterned ones. Which is typical for me, though. Nothing new to report there.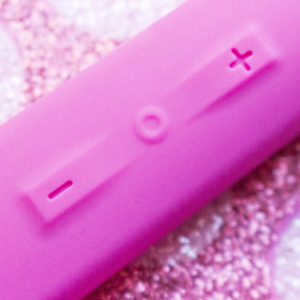 When it came to the power controls maneuverability, I had absolutely no problem mastering the Flex's raised embossed buttons. They are high enough, that they are recognizable by touch alone.
As far as the level of noise generated by the Flex. I'm once again impressed. This vibrator was definitely designed for those whom discretion is a high priority. Its small size and the minimal level of noise it generates, make it the perfect fit for someone concerned with privacy. If you are looking for a small, discreet vibrator, something easy to stash away, then the Crave Flex is right up your alley.
Touché
It looks as though the Crave Flex has earned its rightful place, amongst the chaos of lipstick tubes and mascara. In whichever designer hand bag I have slung over my shoulder. As I'm click-clacking down the sidewalk in my killer new shoes. What can I say, some clichés are closer to the truth than some of us might like to admit.~
---
Get your Crave Flex, now at Vibrant.