When Metis Black, the founder of Tantus, decides to create a vibrator, people in the sex toy world tend to sit up and take notice. This includes me. When I first heard Tantus was moving forward with plans to create a universally accessible wand, I was thrilled. I rushed over to the Indiegogo Campaign page and breathlessly watched a video of Metis Black along with a whole host of sexual education personalities discussing their ideas of what a "vibrator designed for everybody" would look like.
I found myself eagerly nodding in agreement. As I watched the collective proposal for a revolutionary new design concept. A truly unique vibrator, created with the knowledge and input of some of my favorite sexual education experts. A vibrator engineered specifically with the intent to bring pleasure to the diverse array of bodies we all inhabit. Sign me up, already!
The video explained how this new vibrator would be light-weight and easy to maneuver. It would have a full range of settings and modes, with easy to reach controls. As well as including interchangeable silicone heads and a powerful motor. I was beyond excited. I was elated. After the Indiegogo Campaign ended, I waited impatiently. Checking my inbox daily in hopes of receiving an update to the much-anticipated Tantus Rumble. Each one getting me one step closer.
Let's Get Ready To Rumble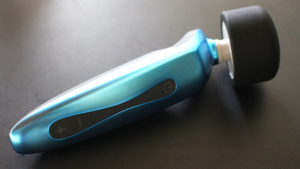 At last, I received an email stating the Rumble was on its way. When I finally had it in my hot little hands, I could hardly wait to try it out. First things first, I plugged the USB cable in and charged it up. When the steady light alerted me that my Rumble was fully charged I was like a kid with a brand new toy. Ready to play.
My first impression of the Rumble was positive. Its metallic blue and matte black finish are aesthetically pleasing. Giving the Rumble a sleek modern appeal. Its feather-light weight of a mere 6.6 ounces is an astonishing surprise. Before handling the Rumble, I'd assumed it would feel much heftier. This is an area where Tantus really came through with their promise of making a truly accessible vibrator. The Rumble is easy to hold and has the added benefit of no cord to fuss with. So any hand fatigue, a heavier corded wand can cause is taken care of in the Rumble's cordless design. Not to mention enabling a freedom of movement, that can't be found when you're tethered to an electrical outlet.
Practical Features
Another feature that fulfills Tantus's promise of universal accessibility is the placement of the control buttons. The lighted + / – buttons, embedded in the ergonomically shaped handle, are thoughtfully placed. Thus, making adjustments to the seven speeds and patterns is a piece of cake. When using the Rumble solo, the handle points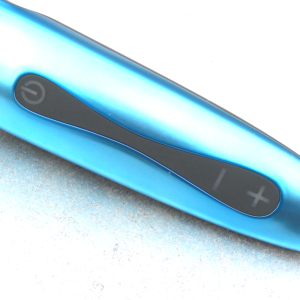 up toward the face. With the controls on the underside of the handle facing down. This placement makes it incredibly easy to use your thumb to lightly press the controls and skip through the patterns during use. Even if you miss one, it's really simple to quickly scroll back to your intended choice. Truly an ingenious design.
The removability of the silicone head makes the Rumble supremely hygienic. Since the removable head is made of 100% platinum silicone, the dishwasher is now available as a viable option for cleaning. In addition to being safe to boil. Ultimately, allowing for cleaning methods, that other wands out there just can't offer.
While on the topic of the removable head I need to mention that three other interchangeable attachments are available. The Dorado, a fin-shaped attachment. The Convertible head, designed to be used with any of Tantus's suction cup compatible toys, and finally the one that intrigues me most, the Spoon head, made for G-Spot/P-Spot stimulation. Each silicone head increases the diversity of the Rumble's uses. Prolonging the interest of people, like me. Who are easily bored. The Rumble is no one trick pony.
Down to the Nitty Gritty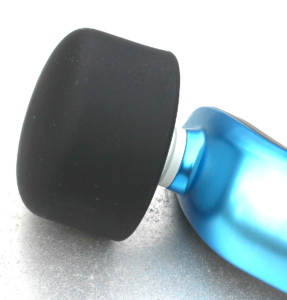 Getting down to the nitty-gritty. How do the Rumble's vibrations feel? Rather nice, I must say. This is taking into account I'm more of a pinpoint stimulation type of gal and acknowledging that my favorite vibes are the We-Vibe Tango and the We-Vibe Touch. The Rumble, like any wand, has a more diffused type of vibration. Not only targeting the clit but encompassing a larger area of the vulva. Due to this difference, it seems to take longer for me to build up to orgasm.
All told, if I had my way, I'd crank up the power a little more. Now don't get it twisted, the Rumble, never failed to bring me to orgasm. It just took longer than I'm accustomed too. Which truth be told, is a nice change of pace. Since I'm in a habit of going straight to the highest setting on my We-Vibe Tango and going for the gusto. So taking more time and building up to climax is a much-needed change in my masturbatory routine. One the diffuse vibrations of the Rumble encourage.
Mission Accomplished
When it comes down to the question of whether Tantus succeeded in creating a vibrator for every body type. I'd say, yes. The Rumble keeps its promise of accessibility. Finally, a vibrator, designed by people who use sex toys. For people who use sex toys. That truly makes a lot more sense.
---