This review has a few firsts for me. My first dual density dildo, my first suction cup dildo, and my official introduction to the Blush Novelties sex toy line. With all these exciting new features to explore, it's clear to see why the Real Nude Suko appealed to my more adventurous side. It's a genuine reflection of me trying to make up for lost time. All it really took though, was one look at the thick, squishy, eight inches of textured shaft for my curiosity to get the better of me.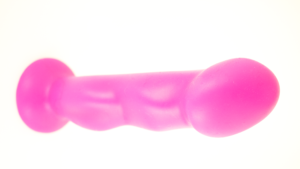 The Real Nude Suko is a product from Blush Novelties. A company whose widely known to design inexpensive, body-safe sex toys. While simultaneously managing to include a variety of functions and features within this more affordable line. Which is great, and allows everyone, regardless of their budget constraints, an opportunity to experiment and explore sex toys to their heart's content. All without breaking the bank.
I think we can agree, that safe, quality sex toys should be available to everyone. No matter their financial status. So Blush Novelties fills a much-needed role in the sex toy industry. Especially, when considering, people typically don't have the means to spend hundreds upon hundreds of dollars on luxury sex toys. Products, that we know, can't easily be refunded or exchanged. If they wind up being incompatible with the buyer's needs.
The Suko, is a perfect example of Blush Novelties packing in a multitude of cool features at an affordable price. One obtainable to a wide spectrum of folks. It's available right now at Peepshow Toys for only $39. When compared to the other dual density dildos they stock, most going for no less the $59.00 that equals a lot of savings. Money that can be spent on something else, like quality lube, condoms, or another toy.
Abundant Features, Affordable Prices
Moving right along now, let's get to the Suko's features and how they hold up. The outer Sensa Feel layer is super squishy, yet body safe. It's made of 100% platinum cured silicone, so there's no need to worry about toxic phthalates. This supple outer layer gives the Suko a realistic feel when inserted. The one and only draw back I found, is the Sensa Feel technology has an almost magnetic ability to pull lint and fuzz from the air. Lucky for us though, Blush Novelties thought to include an antibacterial, lint-free, microfiber pouch for storing the Suko. As for the dual density feature, the Suko, is wonderfully bendy and malleable. The firm inner core allowing for lifelike movement.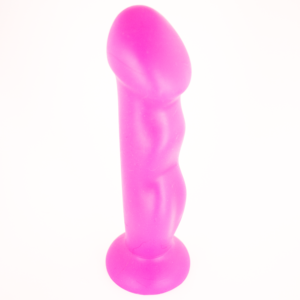 Unfortunately, with this being my first suction cup dildo, I don't have any experiences with which to compare the Suko's suction cup strength. However, I don't need to be an expert to know the Suko's suction cup is far from weak. After sticking it to various smooth flat surfaces around the house. I quickly concluded that once it's in place it's not going to budge until you're ready to remove it. Even then, it takes some force to pull it loose.
So how does it feel? When it comes to the two large bumps running up the shaft of the Suko. They didn't seem to have an impact on my pleasure, one way on the other. However, what did feel extremely satisfying is the fullness furnished by the Suko's 1.6-inch diameter. Insertion of the girthy dildo was much more comfortable due to the slight give of the Sensa Feel technology. I enjoy a nice, gentle stretched feeling and the Suko really came through in this aspect. I particularly relished the added stimulation produced by the large bulbous head.
In Conclusion
All in all, I'm quite impressed by the number of features Blush Novelties managed to put into the Suko. Features, typically only found in higher priced toys. It's great to know that manufacturers like, Blush Novelties, and retailers like Peepshow Toys are striving to make safe, quality, yet affordable, sex toys available to everyone. What an exciting time to be alive!
---
Use code: BACKWOODS10 for an additional 10% OFF