I'm a sucker for novelty of any kind. So is it any wonder that I'm partial to the strangest types of lubricant I can find? I have a habit of seeking out and experimenting with the most unusual varieties available. This is exactly why I had to try Sliquid's Sizzle. A water-based, menthol-infused lube. For those who may be unfamiliar, Sliquid is a highly ethical company. Intent on producing top quality lubrication products. Made with only body safe ingredients. Always free of parabens, glycerine, gluten, propylene glycol and sorbitol. As well as being 100% vegan.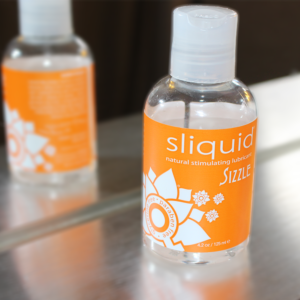 As with so many wonders of the sexual health world. Lube wasn't always on my radar. Good grief, when I look back at the years I spent ignorant of the simple joy of implementing lube into the mix of sex and masturbation, I don't know whether to laugh or cry. Honestly, the only lubricant I had heard of for years was K-Y Jelly. (Ewww…) Even then, I only knew it as something the gynecologist used during my yearly Pap examination.
My limited experience with lube was a cold, gooey mess that I hurriedly tried to wipe away with a paper gown. Before getting dressed and trying to forget the anxiety of the examination I had just endured.
True story guys. It wasn't until my mid-twenties that I even had the inkling to try lube of any kind in my sex play. You might say my introduction to it was an odd one.
Picture this, it was during the height of the coupon craze and I had joined in clipping and planning my weekly route of attack at the local pharmacy. I vividly remember it, I had a buy one, get one free coupon for K-Y warming oil. ( I know, I know) Anyway, even though I was embarrassed for the checkout girl to see what I intended to buy. (Remember I live in a small town.) I endured her smirk and ended up buying it despite the self-perceived humiliation.
This led to one of the greatest sexual discoveries of my life. That being, my partner and I, both really enjoyed sensation play in the form of lubricant. As embarrassing as that story is. I'm glad I discovered lube no matter how convoluted the path was getting here.
Live and Learn
As I've progressed through my journey of sexual discovery and adventure I've become educated on the downside of using glycerine based lubricants. Yeast thrives on sugars and glycerine is a similar compound to sugar. Thus, it has the tendency to increase the growth of yeast. Leading to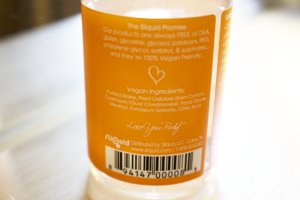 vaginal PH imbalance and yeast infections. So glycerine based lubes like the drug store K-Y I first bought, increase the likelihood of developing a yeast infection. Since I'm naturally more prone to them, I don't need a lube that increases my chances. Naturally, I've since sought out healthier alternatives.
Another important lesson I've learned is that you shouldn't use silicone based lubes with silicone toys. The result of doing so can cause a breakdown of the silicone toy. Resulting in damage to the toy. No one wants to throw their favorite, not to mention expensive, vibe or dildo away because of a lube mishap.
Ultimately, a good lube is an essential part of sex play. It can make a huge impact on the types of sensations felt during both anal and vaginal sex. It is particularly helpful in reducing unwanted, uncomfortable, and possibly painful friction for all parties involved. Whether used alone, in solo sex or partnered sex, lube reduces friction. Which creates a more pleasurable experience overall.
So getting back to the main subject of interest, Sliquid Sizzle. First off, got to tell you all. I'm pretty much a fan of any lube that Sliquid makes. Though I may be in the minority here. I even find their flavored variety, Sliquid Swirl, is a fun to use. Keeping in line with my taste for the different and unique. Sizzle is one of Sliquid's sensation play products.
The Perfect Amount of Sizzle
The ingredient list is short and sweet. No long list of words that only a chemist can pronounce. Made with only natural, simple ingredients menthol is the component that creates Sizzle's heating and cooling sensation. So if you have any allergies to menthol you should avoid Sliquid Sizzle.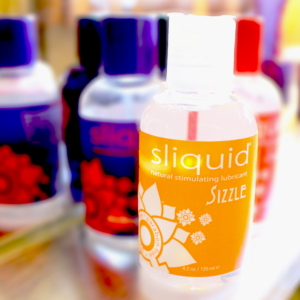 I found the dual sensation of Sizzle exhilarating. When first applied it causes a nice, cool tingling across the area it's applied. I would describe it as refreshing and light. Not overstimulating. Once friction and movement are introduced the cool, light rush transitions into a radiant, warming effect. Again, the sensation is subtle. Not overwhelming in the least. Just a nice bit of extra warmth, nothing too extreme.
Sliquid, somehow managed to balance the level of stimulation perfectly. Sizzle doesn't take center stage and overpower any of the other thrilling sensations happening during sex. After use Sizzle washes away easily. It wipes off skin cleanly leaving no oily residue.
To sum this review up, Sizzle now has a special place in the top drawer of my nightstand. Along with a handful of other varieties of Sliquid.
---