Typically, I rate sex toys on their ability or inability to bring me orgasm. I knew going into this review though, that the Aneros Evi, would have to be measured on a different scale than past toys. Based on one fact, and one fact alone. The Evi is a peculiar little toy. It's one part Kegel exerciser and one part non-vibrating, G-Spot/clitoris stimulating, insertable. Which I've got to admit is slightly confusing. It almost feels as though Aneros couldn't decide which way to market the Evi. So they opted to straddle the fence between the two.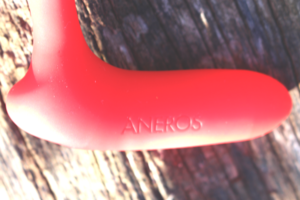 Aneros, is a company that has had a lot of success making and marketing sex toys for prostate stimulation. The Evi is Anero's first attempt at creating a sex toy that's intended for vagina/G-Spot owners. It's made from a smooth, matte finished, silicone and has a unique capital "J" shape. This shape, particularly the way Aneros designed the Evi's bulb and handle, is engineered to press against and stimulate the G-Spot in unison with the clitoris. With the bulb internally stimulating the G-spot, and the handle externally stimulating the clit. The goal, being to induce orgasms through friction alone. (sans vibration) The old hands-free, orgasm ideal, a lot of us have chased after. That's a pretty tall order to deliver if you ask me. One I didn't have a lot of faith in happening for me.
The help guide instructs the user to lie on their back, knees bent, and place their feet flat. Then to rhythmically rock, swivel, and thrust their hips. Causing the handle of the toy to rub against the clitoris. While the bulb simultaneously presses firmly against the G-Spot. This all should culminate in an eventual orgasm. When done properly, and with enough practice, it just might work. Even so, I knew this wasn't likely going to work for me and I happened to be right.
I just wasn't able to orgasm with the Evi without introducing a clit vibe into the mix. Even though the friction alone felt good, it just wasn't enough for me to climax. I always ended up placing a vibe on the handle and allowing the vibrations to reverberate through it. Which worked well for me. Something worth mentioning here is that the orgasms were rather intense due to the added G-Spot stimulation the bulb provides. It creates a nice, firm pressure. Something I happen to really like.
Fits Like A Glove
No biggie, I didn't have my heart set on hands-free orgasms anyway. My interest in the Evi was always geared more toward its other use. I'd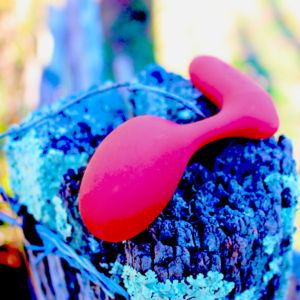 intended to focus more on the Evi's usability when combined with Kegels in strengthening the pelvic floor muscles. For those who may not know. Pelvic floor health is vital in strengthening bladder control. While also increasing the power and intensity of orgasms. (Woohoo!)
The first started being a priority for me, after two vaginal births that have had left me vulnerable to leaking urine during a particularly raucous bout of laughter or a powerful sneeze. Whether you've given birth or not. Strong pelvic floor muscles are an important aspect of our overall health and shouldn't be neglected.
When inserted, the Evi works well at helping the wearer target the PC muscles. Making it easier to isolate and engage them during Kegel exercises.The Evi is made to be inserted with the handle facing up, pressing against the clitoris, and the bulb nestled snugly against the G-Spot. I found, when I inserted it this way, it melded perfectly with my anatomy and the pressure on my G-Spot felt amazing. I was rather impressed with how nicely it locked into place, creating a snug, tight fit. Like a hand in glove. This made me feel much more confident about walking around with the Evi in place. Something I've found problematic with other Kegel exercisers.
Stays in place
I've tried a few different Kegel exercises in the past. All of them, the circular-ball shaped type. I've tried both the double and the single weighted versions. While I found a couple to be acceptable. I've never been completely satisfied with any of them. My biggest issue being,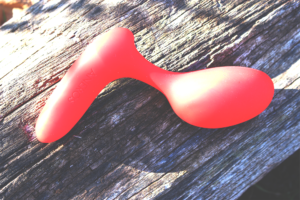 the weighted balls slipping down as I moved around. They all somehow manage to gradually work their way to an uncomfortable position in my vaginal canal. Causing a noticeably unpleasant and uncomfortable feeling while sitting. Resulting in me to taking them out, throwing them in a drawer to seldom be used again. In comparison with those, the Evi definitely has the upper hand. It just seems to be more compatible with my anatomy. Hands down the better option for me.
Basically, Aneros, has created a well-crafted, silicone, Kegel exerciser/vaginal plug. Its design lends to the user being able to confidently and comfortably wear it for an extended period. The shape and thickness of the bulb cause a continuous, pleasant pressure against the G-Spot. As for the hands-free, orgasm aspect, it just wasn't in the cards for me and I'm okay with that. (Though, I'll keep trying) Others may find it works perfectly for them. In the end, I'm satisfied that I've found a Kegel exerciser that stays in place and I can wear comfortably. All in all, that's what I call a win in my book.
---
Total Length:

5 1/2 inches

Insertable Depth:

2 1/2 inches

Neck Width:

1/2 inch

Arm Height:

3 1/8 inches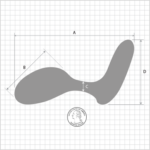 ---
Get your Aneros Evi from these fine sex toy retailers, Aneros, SheVibe, & Peepshow Toys