I have found the Holy Grail of thigh high stockings. As a plus-sized woman, who wears a size 16 women's, in American sizes. I can not put into words how exhilarating it is to finally discover a thigh high stocking that actually stays put on my thick upper thighs. I've tried several brands over the years. Only to be disappointed when the tops rolled down after only a small amount of walking around. That, or they'd get a run while putting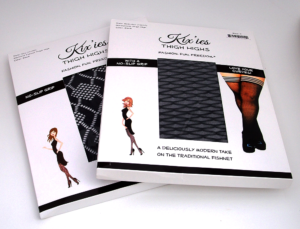 them on. Before even having the chance to enjoy wearing them. I can confidently say that most of my previous attempts at wearing thigh highs ended in a disaster of one kind or another. As you can imagine this doesn't lend itself to feeling very sexy.
When I first learned about the Kix'ies brand, I was skeptical that this brand would be different from any of the others I've tried. Forgive me, though I suppose a bit of skepticism is to be expected when you're surrounded by a world full of advertising promises. Ones that tend to be exaggerations.
A main selling point of the Kix'ies brand is that they stay up due to their unique no-slip grip band at the tops. They have an excellent ad campaign called the Kix'ies challenge. Which shows the top band in action. After watching videos of Kix'ies owner/creator, Samantha DeMartini, golfing, swimming, and rock wall climbing while wearing them, and them staying put, I was still doubtful. Imagining the videos had to be the result of some smooth trick of the camera or just a sales gimmick of some sort.
I'll admit it, I was wrong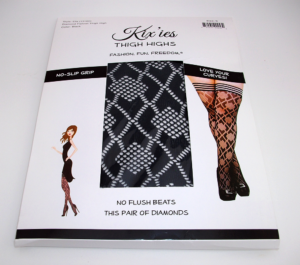 Oh, how wrong I was. These thigh highs are the real deal. Their no-slip grip tops are no joke. They stay locked in place no matter what you are doing. I put my first pair of Kix'ies on with a grin while thinking to myself, "Let's see how long these stay up." A few hours later they hadn't budged and I was a bonafide Kix'ies covert. The promotional videos are legit.
Not only do they stay up, Kix'ies aren't prone to runs like most of the other nylons I've tried. If you've worn nylons much at all, I know you've experienced the disappointment at getting a run while putting them on, or not long after. Ugh, then they're completely ruined. What a waste of money. While I don't know the specifics of exactly how or why Kix'ies are much more robust and seem to be manufactured with higher quality materials.
If you haven't tried them yet, I really urge you to. With a range of four sizes to choose from, Kix'ies has insured every body type can enjoy their fabulous legwear. With a size for essentially every thigh. They are truly amazing and come in different textures. As well as being available in white, black and beige. I love the two textures I've had the chance to try. The Elle pattern, which is a diamond shaped fishnet. Reminiscent of an argyle pattern. As well as, the Beth Ann, Kix'ies modern twist on the fishnet stocking. Sporting more of a honeycomb design. Both of which I tried in the black. I absolutely love the look of both and the quality of the material is easy to see and feel.
You Get What You Pay For
I could go on and on about how much I adore these thigh highs. Compared to other stockings they may seem a bit pricey. Particularly when compared to some of the cheaper thigh highs I've purchased in the past. Like the old adage says though, you get what you pay for. When considering the quality of Kix'ies as well as how amazingly confident they make me feel. They are well worth it. Kix'ies are in a league of their own when it comes to quality. Plus, they actually live up to the promise they make to stay put. The no-slip-grip band is terrific.
As a curvy woman, who was almost ready to give up on ever finding nylon thigh highs that worked with my body. I am over the moon. Kix'ies work with my body and instead of being self-conscious that my nylons are rolling down. Feeling sexy and empowered comes naturally while wearing something that makes you feel as confident as Kix'ies do.
---