I realize fall represents different things to each one us, and for to me it symbolizes a time of transition. As well as an occasion to loosen my inner child. The one who never fails to be enthralled by the sights, scents, and sounds of the harvest season. The one who seizes the unique opportunity Halloween presents us with. The possibility to be someone else, if only for a night. The chance to let our imaginations run wild, with the possibility of shedding the daily grind and the attire that goes with it. To become a super hero, sorceress, princess, or queen. Whatever your heart's desire. The options near limitless, only restrained by our imaginations. My inner child has gleefully been trying on different personas. Snow White? Alice in in Wonderland? Perhaps a mermaid? Nah, none of these were exactly what I'm yearning to try on.
I've recently found myself on a journey of self empowerment. So naturally, I wanted a guise that reflects this. Today in a moment of clarity it hit me. Khaleesi, from the HBO series Game of Thrones. She has been on a quest for empowerment. Transitioning from a passive past into a strong decisive leader. A perfect concept for this year's costume.
I have always enjoyed adding my own spin to my Halloween costumes. True to form, none of the four corsets I'm currently eyeing are an exact match for any previously seen on-screen attire of the heir to the Iron Throne. I do feel confident however, that they are similar enough to be a sufficiently recognizable take on the silvered haired princess. I'm certain with a long platinum wig, a sensational necklace, and a pair of riding boots, I'll easily be recognizable as the Mother of Dragons.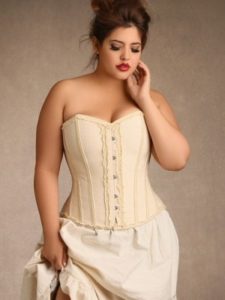 ---
I also want point out something great about any one of the of corsets above. They are all quality made, steel boned corsets. Not the cheaply constructed, ill-fitting stuff, you'll find at the run-of-the-mill Halloween chains that pop up around this time every year. You can, no doubt, utilize these pieces for years to come. Whether for a costume, or not. All it would require is a simple revamping of accessories and accent pieces. Any of them could easily be incorporated into a Steampunk, Edwardian era, or Aviator costume. That's what so great about these well-crafted staple pieces. The diversity and longevity of use they offer.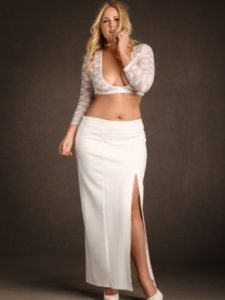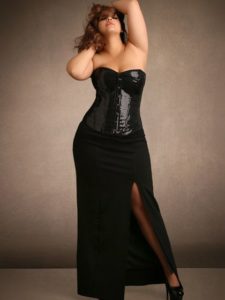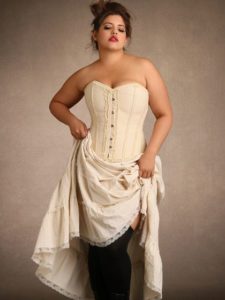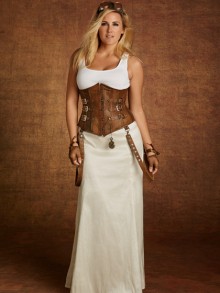 ---
Another Daenerys Stormborn necessity is a longer length skirt. You can see in the photos above how versatile this Vintage Cotton Petticoat can be. It's just a matter of styling once again. Something as simple as accessory placement changes the entire look. I love experimenting and changing things up. Anyone of the four of them would work though.
Speaking of accessories, that brings me to the most crucial aspect of costume styling. This is where we can each add our own personal flair to the character we are portraying. I love the effect of these skirt hiker uppers. Along with the other possible accessories I've shown below. It's easy to see how the overall look changes with each unique detail, like the black feathered cape, the leather harness, or the leather straps. You can see in the photos below how each accessory can give a costume that custom look we are all striving for. The finishing touches on our masterpiece if you will.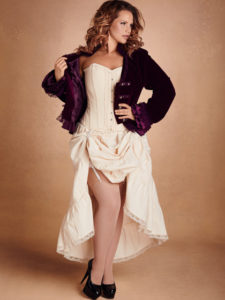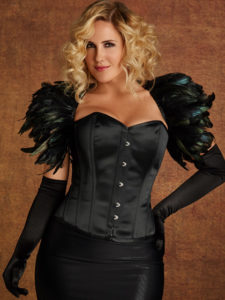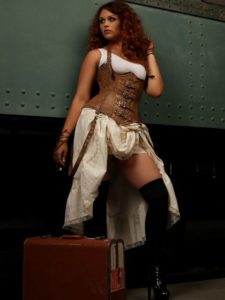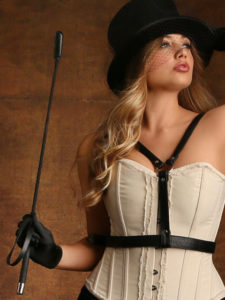 ---
Deanerys Targareyen, is such a fitting character for me to incorporate as my Halloween costume this year. She represents a strong, self-assured young woman. Who is only beginning to come in to her own. Similarly, this year has been for me, a of year of struggle towards self acceptance and empowerment. I too am only beginning to realize the possibilities given to those whom truly love themselves fully and completely.~
---