I'll let you in on a little secret. I've never tried a realistic dildo. It's not that they freak me out or anything. It's just that there is such a huge range of abstract shapes and sizes to choose from, that I always find myself drawn to features that can't be found in nature. So it was not particularly surprising that I was instantly attracted to a swirly, ridged dildo like the Pleasure Works Mini Rippler.
Let me be clear, I'm absolutely open to trying some of the cool realistic models out there when the opportunity arises. As of now, though, this non-realistic, spiral textured dildo was something I couldn't pass up. Ridges, bumps, and swirls always cause me to imagine what they would feel like being thrust into my vagina. Sorry if that's TMI, but it's the truth.
Pleasure Crusade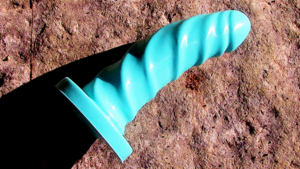 This time was no different. When I first saw Pleasure Work's Mini Rippler I thought, "Hmm… I wonder what those ridges would feel like when thrust inside my vag?" Then I went on to notice the slight upturned curve. Indicative of the possibility of some hella good G-spot stimulation. Seeing as how I'm on a personal crusade of G-spot discovery of sorts, I figured the Mini Rippler would likely be a dildo I would enjoy.
You already know how psyched I was to experience the seductively textured ripples on the Mini Rippler being thrust into my vag. So, as you can imagine, I was utterly dismayed when I realized I could barely feel them when I had the dildo fully inserted and still. Actually, I could only vaguely feel the ridges while thrusting in and out. They didn't make a noticeable impact on my pleasure or the intensity of my orgasm. Let's just say I was a little underwhelmed by the texture.
Thankfully, all was not lost. I discovered I really enjoy the slight curve of the Mini Rippler. It's pronounced just enough to give me that "need to pee sensation" associated with G-spotting. Which amps my pleasure intensity by an extra notch or two.
Ideal Length
That and I relish the firmness of the Rippler's harder shored silicone when gripping the 1.55-inch thickness of the Mini Rippler with my PC muscles. Additionally, I find the 6.25 inches of insertable length ideal for me to fully insert. It minimizes the risk of me ramming the tapered head into my cervix when rapidly thrusting. Something that I find particularly unpleasant. Not sure, but I'm beginning to think my IUD plays a factory in this.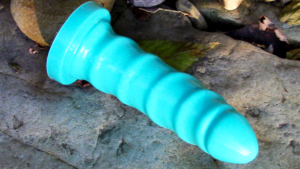 Another feature of the Mini Rippler is its ability to double as a vibrating dildo. This means it has a cavity in its base for inserting a bullet vibe. The one included with the Mini Rippler is a small silver bullet that runs on watch batteries. Considering any vibrator powered with less than AA batteries usually don't work for me. I didn't expect I'd find the included bullet vibe up to snuff with my expectations.
However, for the sake of this review, I tried the watch battery vibe that it came with, and unsurprisingly I found it lacking. (Hint: Don't forget to add a pinch of cornstarch before sliding the bullet vibe in. For easier retrieval.) Although the watch battery bullet did add a small amount of extra stimulation, I found most of the vibrations were absorbed by the thick silicone. Meaning they had little impact on my pleasure response.
Dial It up
This is where my favorite bullet vibe came in handy.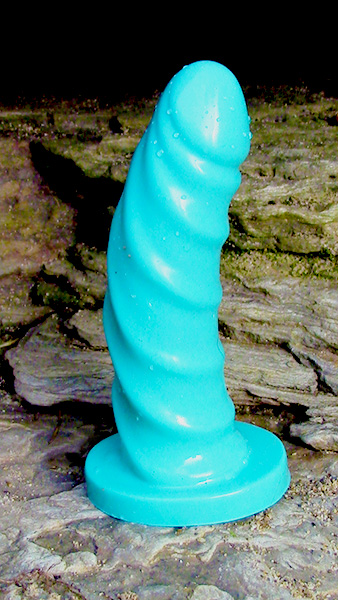 I replaced the generic watch battery vibe with the We-Vibe Tango and the difference was like night and day. We-Vibe Tango to the rescue. The Tango's vibrations easily passed through the thick silicone of the Mini Rippler, no problem. Dialing up the internal vibration intensity to the extreme. Using the Tango with the Mini Rippler is ideal and exactly what I will be doing from now on.
All in all, I find the Mini Rippler is an excellent choice. It's a premium 100% silicone dildo, at an extremely affordable price of $56.00. Plus, I can't help but rave about the freakn' awesome colors it's available in, teal or black. Mine being the vivid teal. Though, I would have been thrilled with either one. I'm honestly just excited to see that sex toy companies are finally listening to their consumer's feedback and providing other options beyond the overused pink and purple. I think we can all agree that it's time to create sex toys in every color of the rainbow, including rainbow.
The Mini Rippler is a nice addition to my toy box. One I intend to use often.
---
Get your Pleasure Works Mini Rippler from these fine sex toy retailers, Good Vibrations , SheVibe, & Early to Bed
SaveSave