So you've bought a few awesome sex toys. Or maybe more than a few. Naturally, you find yourself confronted with the question of where to store them all. If you're anything like me, you've probably found you're severely lacking in the sex toy storage department. Really, we're not alone. The sex toy industry is lacking in available storage options. Lucky for us, it looks as though a few brands, like Liberator, are stepping up and coming up with some innovative toy storage designs.
I was determined to find a remedy for my inadequate storage situation and hopefully help some of you along the way. So logically, my next step was to search online for some practical storage solutions. Right away, I found the Liberator Tristan Velvish Toy Bag and was struck by the posh look it has. The Tristan is one of Liberator's toy bags from their Couture Cases line. So when they agreed to send one out to me for review I was really looking forward to it.
Quality & Craftsmanship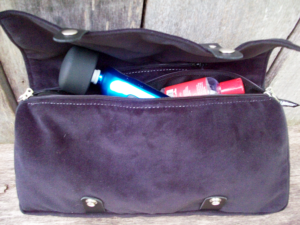 Liberator is more commonly known for their high-quality positional aids. They manufacture sex position aids in a range of shapes and sizes. Each one providing its users with unique capabilities. I am, as many others are, a big fan of their Wedge design. Through this earlier introduction, I was already familiar with the type of quality and craftsmanship to be expected from the Liberator brand.
I wasn't disappointed when I finally had the Tristan Velvish Bag in hand. Both, the quality and construction, of the bag are impressive. I adore the look and feel of the soft, velvety textured fabric, it's constructed with. I also found details, like the genuine leather straps and silver hardware, charming touches. Adding to the overall fashion forwardness of the bag.
The bag I received is black, one of four color choices the Tristan is available in. All of the color choices are deep rich colors. Like the Espresso, a decadent dark brown, and the Merlot, a beautiful burgundy shade. In other words, the color choices compliment the richness of the velvet fabric and leather detailing nicely. Culminating in an undeniable air of luxury.
Hidden In Plain Sight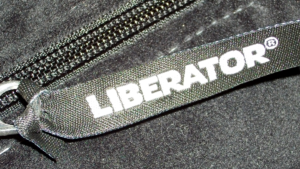 The Tristan Velvish Bag is an east-west bag. Meaning the bag has a longer horizontal length to height ratio, and it has a removable leather handle for carrying it by hand. As opposed to a shoulder bag. Which has a longer strap, for over the shoulder use. The bag measures in at 14 x 6.5 x 6 inches. Making it long enough to accommodate most toys and accessories.  Even those toys on the larger end of the spectrum. Toys like our beloved Magic Wand and everyone's new favorite wand, the new kid on the block, the Doxy.
The Tristan Toy Bag is a genius design, in that, it looks to those unaware, like a trendy handbag. Its appearance never hinting at what's hidden inside. Although, as we all know, looks can be deceiving and there's no doubt Liberator designed the Tristan with sex toy storage in mind. Incorporating important details like a water-resistant nylon lining. Crucial for keeping any spills from escaping and damaging the outer velvet shell. The design also includes double zippers. Which can be locked with a small padlock. Perfect for preventing the wrong person from gaining access. Then there's the extra inside pocket. A perfect spot to hide your smaller toys, lube, and other accessories. Plus, my favorite detail, the handle, which has the dual purpose of being able to be removed and used to link any two D-ring wrist cuffs together.
Final Thoughts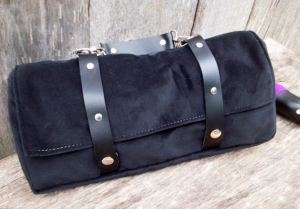 Overall, I love the Tristan's design because it doesn't shout "There's a sex toy inside!" So I could easily stroll down the street with this in hand and no one would suspect what's inside. Causing me grin to myself. It also doesn't hurt that it's actually a fashionable and trendy design.
One more thing that I appreciate about the Tristan is that it's large enough to accommodate a lot of toys. I find that it's almost deceptively roomy. Holding way more toys than the outside would suggest. Kinda like a magician's hat, like how does that even work?! I don't know, but I love it.
Finally, the ultimate test for any sex toy storage for me is that it goes unnoticed by my snoopy kids. The Tristan passes this test as well it. I experimented just to be sure. Leaving it out on my bed for a week in full view, and not once did it catch the attention of my notoriously curious daughter.
My last thoughts on the Liberator Tristan Velvish Toy Bag are that it is a modern, chic storage option that not only houses your favorite toys nicely. It also looks good while doing so.
---
Get your Tristan Velvish Toy Bag from the fine sex toy retailer, Liberator. Also, check out their line of top quality positional aids.