I'll be the first to admit an expensive pillow used solely for sexual positioning may seem like a bit of a splurge. I was skeptical myself. My thinking before trying the Wedge was, what can this wedge-shaped sex pillow do that a few strategically placed pillows can't? Well to answer that question, a lot, really. I can promise you one thing, the money I spent on my Wedge, was not wasted.
Liberator makes a range of sexual positioning pillows in different shapes and sizes. They sell positioning aids fashioned to mount wands, dildos, and Fleshlights. They even cater to kink. Someday I would love to try their Black Label Edition. This line has optional restraints built right into the design. For now, though, I choose the Wedge as my introduction to legitimate sexual positioning aids. With high hopes of never having to resort to stuffing pillows under my derriere again.
Right off the bat, I encountered a personal dilemma, when choosing which color I wanted. See, the Wedge is available in six vibrant colors and decision-making isn't my strong suit (fellow Libras I know you understand.) In the end, I settled on the animal print. Maybe a little cliché, but I don't regret it. After all, it's a nice leopard print, plus I think it's sexy.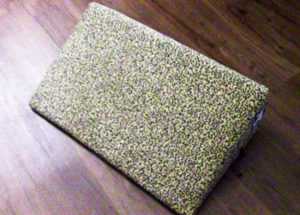 Later I realized there was no need to antagonize over the color choice. Since you can easily buy replacement covers on Liberator's website. Which is good to know in case of a change of decor. God forbid, if you someday realize your Leopard print, sex pillow now clashes with the red polka-dot print on your new drapes. The crisis can swiftly be averted. Seriously though, it is reassuring to know that if the microfiber cover ever gets ruined your Wedge will still be usable.
The Wedge is 24″ wide, 14″ long, and 7″ high, covered with a 100% nylon microfiber cover. Essentially, it's not so large that it draws a lot of attention. But if that is a concern, it could easily be stored under the bed and out of sight. I want to remind everyone that there is also a Plus Size Wedge available that has a width of 30″ for six inches of extra room and added comfort.
Gotta say, if one thing surprised me most, it's how nice the microfiber cover feels. Not sure why, but I had unfairly assumed since the cover is made from nylon that I might have to compromise on the softness of the fabric. Thankfully, this just isn't the case. As an added bonus, the microfiber cover can be easily unzipped and tossed in the wash if it gets grimy with lube, lotion, or body fluids. This outer layer unzips to reveal an additional moisture resistant liner that acts as an extra barrier between the microfiber cover and the polyurethane foam.
The silky smooth, microfiber cover and polyester liner enshroud a high-density polyurethane foam that holds its shape nicely. Even my rather ample rear end didn't cause the foam to collapse. I'll admit, I was pretty impressed by this, but even more impressed that it accomplishes this while not being too rigid as to become uncomfortable during use. The Wedge's 27-degree angle is designed to tilt the pelvis into a place that allows for deeper penetration and increased G-Spot stimulation. It also makes it easier to maintain a position and focus on pleasure alone. Less hip-joint catches and Charlie Horses are always a bonus in my book.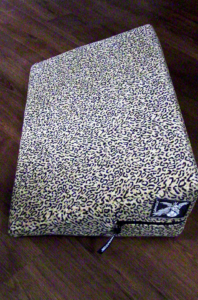 I was surprised when The Wedge arrived in a plain, smaller-than-expected brown box. I learned the reason for the smaller sized box is the Wedge comes delivered vacuumed sealed like an unopened package of beef jerky. Encased in a grey, zippered bag. What a clever way to cut back on shipping waste!
Minutes after I opened the Liberator Wedge it had popped into the expected shape and was ready to use. While I was excited to try it for the first time, my partner was a little dismissive. He couldn't see how this wedge-shaped pillow was going to improve upon the regular bed pillows we always used. Sounds familiar, doesn't it?
After I showed him the position guide that I found on the Liberator site, he finally started getting a little more interested. This one-page guide, with illustrations of sexual positions that work with the Wedge, is also included in the packaging. I guess you could call it an instruction manual of sorts. It makes using the Wedge even more exciting. Kind of like eating at a new restaurant. Choosing which positions to try is comparable to deciding which enticing selection off the menu you want to try next. It builds anticipation and stimulates the sexual appetite. Ultimately, leading to less boredom in the bedroom.
After using it the last several months, we both have wondered how we have made it this long without such a simple invention in our sex lives. Really, it's truly shocking that a wedge-shaped hunk of foam can change the way sex feels so profoundly. When using it in the missionary position my G-spot gets soooo much more stimulation, I love this. He loves that it helps him achieve deeper penetrating thrusts. We've also discovered that it works well when using it for oral sex too. It positions the vulva (or penis) front and center. Making it easier to access. Amen to not having to endure uncomfortable neck cramps.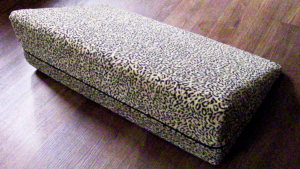 Really, nowadays we rarely pass up the chance to use the Wedge during our sessions together. Even though my partner's not the sex geek I am, he's always exceptionally eager to use the Wedge. Honestly, I've never seen him this excited about a product before.
Whether using it in the doggie-style position, missionary, or some other variation it always improves the quality of our sex together. By increasing the pleasure we both receive. It also helps relieve the stress sex can have on our joints and muscles. We both can appreciate that, too. It's the first product I can think of that he looks forward to using as much as I do.
I understand that the price can seem a little steep, for a sexual positioning pillow. Remember, I thought the same thing, I was a worried I might regret purchasing the Wedge. That was before I tried it. Having used it for the past several months, I would recommend the Wedge as a staple in everybody's bedroom. Especially, anyone who is looking to make their sexual experiences more pleasurable and thrilling. Everyday bed pillows cannot compare to the versatility in positioning the Liberator Wedge allows for. It's rare to find something that has a practical use, taking stress off our bodies during sex. As well as taking the quality of sex to a whole new level. I can honestly say it's worth every last penny. Go ahead pamper yourself, you deserve it!
---