Two To Tango
I'm going, to be honest with you. When I received the Tango and opened it. I thought there is no way this tiny thing could be as good as I'd been anticipating. Standing there with it in my hand. I was skeptical that such a small vibrator could live up to all the hype created for it online. My first impression began to change shortly after I finished charging it and turned it on for the first time. Simply holding it in my hand and feeling its powerful vibrations, I knew this was going to be a good clit vibe. The vibrations were so strong that when I laid it down on my nightstand to get my Sliquid it nearly bounced right off the edge. Intrigued and eager to try it out, I grabbed it and forewent the lube. Within seconds after touching it against my clit I was having a quick but powerful orgasm.
We-Vibe hit it out of the park twice when they introduced their dynamic duo, the We-Vibe Touch and the We-Vibe Tango. Both of these vibes, give new meaning to the phrase good things come in small packages. Though, today I will only be focusing on the Tango. You can check out my review of the We-Vibe Touch here.
If someone stumbled upon the Tango with no prior knowledge of it, they would most likely underestimate its strength. It would be hard to guess by the Tango's appearance alone that such a petite vibrator could compete with the biggest and the best wands, but it truly does. The Tango provides superb, direct external, clitoral stimulation and definitely lives up to all the good press surrounding it.
The Tango is just an overall good vibrator. We-Vibe achieved near perfect simplicity with the Tango. There are no remotes, no fragrances, and don't expect the Tango to vibrate in sync to your favorite playlist. It won't, and it doesn't need to. When you try the Tango out you'll most likely agree that basic doesn't always equal boring. We-Vibe doesn't need gimmicks when they can deliver the pleasure they promise.
Wango Tango
We-Vibe offers the Tango in an incredible blue color that I'd love to get my hands on. For now, though, I'm happy to have mine in the hot pink option. Believe me, I'm not complaining. I adore my Tango regardless of what color it is. This pocket-sized vibrator has 8 vibrational modes. Four of these modes are steady vibrations and the other 4 are patterns. Evenly split, to offer diversity to those of us who like steady vibes, and to those out there who enjoy mixing things up with some patterns. A little variety for you as well. To scroll through the modes you just press the one and only button on the bottom of the vibrator repeatedly. This is also where you will turn your toy off, by holding down the button for a few seconds. Your next session with the Tango will automatically return you to the last setting you used.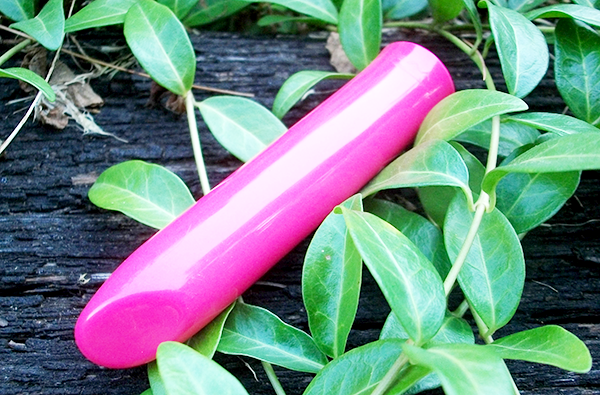 The Tango is unique in the We-Vibe toy line up since it is the only product they offer that is not coated in medical grade silicone. Instead, the Tango is made of body-safe ABS Thermoplastic. Which doesn't take away from the quality of the product at all. The ABS Thermoplastic is easily cleaned and attracts no lint or fuzz.
The Tango is USB rechargeable, it can run up to 2 hours on a single charge. Don't worry, when the battery is low a little orange light will flash on the bottom of the vibrator to remind you it's time to hook up to the magnetic charging dock. It also seems to hold a charge pretty well, since I can leave it on my nightstand for weeks at a time without charging and it will still work the next time I reach for it.
Tango's Worth The Cash
The Tango should be referred to as the universal bullet. Whether intentional or not, We-Vibe created the Tango with the perfect specifications to use as a substitute for those old watch battery operated bullet vibes. It accommodates most brands that manufacture toys intended to house a bullet vibe. You can insert the Tango into a variety of sex toys. Just don't forget to add a little cornstarch beforehand. To make it easier to remove once your finished. For example, any of the Tantus vibrating dildos house the Tango nicely.
We-Vibe seems to have caught on to what their customers where doing. Because they released their own silicone toys that utilize the Tango's design, the Pleasure Mate Collection. Look forward to an in-depth review on the collection as well.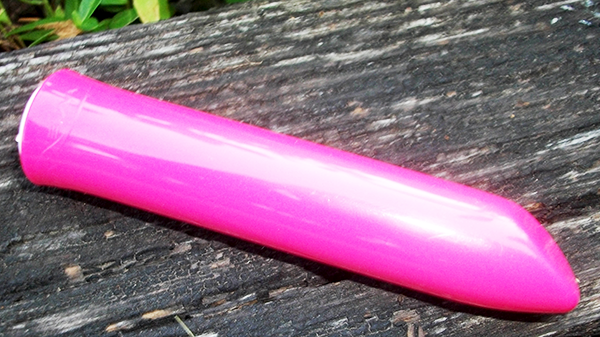 Thankfully before making my first online sex toy purchase I did some research. Time and time again I found people were mentioning how much they loved the We-Vibe Tango. The Tango wound up being my first luxury vibe purchase. I felt like I hit the jackpot in finding my Goldilocks clit vibe straight out of the gate. It has been in my top nightstand drawer since the very first time I tried it. It is so versatile and I use it so frequently I don't for see that changing anytime in the near future.
The Tango is probably one of the most versatile vibrators on the market today. I have yet to find someone who says they hate it. If you are still using those outmoded silver bullet vibes in your dildos upgrade to the Tango. You'll be glad you did.
---
Get your We-Vibe Tango at these fine sex toy retailers, Babeland, Peepshow Toys, and SheVibe.