High Expectations
The Fun Factory Layaspot first captured my attention due to the reputation Fun Factory has for making high-quality sex toys. I'd never had the opportunity to try any of their products. So naturally, I jumped at the chance to put one to the test. Secondly, I require pin-point clitoral stimulation to reach orgasm. So the ergonomic contours and shape of this toy looked like they fit the bill. Plus, as a sort of added incentive, the product information indicates that the Layaspot can be lain upon for some hands-free action. This particular bit of information intrigued me even more.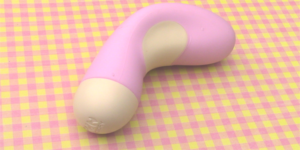 Fun Factory is well-known for their cutting-edge German ingenuity. They are recognized worldwide for their new and truly innovative sex toys. So when I made my choice to review their Layaspot clitoral vibrator. I couldn't imagine anything other than this being a match made in heaven.
The Layaspot seems to have almost everything I'm looking for in a clitoral vibrator. It has the ideal shape to give me the direct clitoral pressure I crave. It's covered with medical grade silicone. It has 8 vibrational patterns, and as an added bonus it's splash proof. Not to mention I really liked the way it arched. Appearing as though it would fit nicely in my cupped hand. The well placed + and – buttons, and the fact that, in theory, I could place it on my bed while lying face down on it (as the name implies) and grind myself to a hands-free orgasm. Woohoo, sign me up for that, please!
My only reservation was, unlike all the other vibrators I own, it runs on battery power, two AAA batteries to be exact. I try hard not to judge a book by its cover so I couldn't let that one little problem deter me. Possibly causing me miss out on the hands-free orgasms I anticipated I would soon be having.
My Experience
Little did I know, the love affair I had imagined for myself and the Fun Factory Layaspot was not meant to be. My experience with the Layaspot was a little like finally meeting a potential date from an online dating site. The profile and included pics seem to have everything you could dream of. You have such high hopes for your first encounter, but when you finally meet in person, the sparks just don't fly the way you thought they would.
Unfortunately, when I placed the vibrator against my plump outer labia and pressed it toward my clit all the vibrations were deadened. Leaving me feeling pretty disappointed, and after a few minutes rather numb, as well. After many failed attempts, trying different settings. I'm sad to say, try as I might the Layaspot didn't pack enough punch to bring me to orgasm. This toy appears to have so much going for it, but unfortunately, it has the awful "buzzy motor syndrome" we've all come to dread. That, my friends, is a deal breaker for me.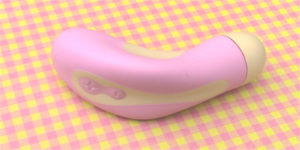 Always the optimist I wasn't quite ready to give up on the hands-free orgasms I had daydreamed about. So while lying in bed reading my newest book of erotica I gave it my best shot. I positioned the Layspot and excitedly laid on top of it while reading one of my favorite stories. Unfortunately, I knew right away this wasn't going to be any different than my past pursuits at achieving orgasm with the Layaspot. If anything it was worse, all the vibrations seemed to be absorbed by the mattress. If I hadn't known better I would have thought I had accidentally laid down on top of a ringing cell phone set to silent mode. Too bad, can't win 'em all, I guess.
Final Thoughts
Here are my final thoughts on the Fun Factory Layaspot. You could easily spend $49.99 at Fun Factory and get it now. Although I would hate to see you make a purchase you might end up regretting. So let me point you toward some better alternatives If direct clitoral targeted pressure is what you are looking for. I recommend spending just thirty to forty dollars more and buying either the We-Vibe Touch or We-Vibe Tango. Both are raved about for providing deep rumbly pinpoint vibrations, plus they are both USB rechargeable. I own both, and they are my go-to clit vibes. I was hoping to add the Layaspot to this list of favorites. Unfortunately, I found that it doesn't come close to having the deep rumbly motor the Touch or Tango have. So they will continue to reign supreme in the top drawer of my bedside table.
Its been said and I must agree the opposite of love is not hate, but indifference. Regrettably indifferent is exactly what I feel toward the Fun Factory Layaspot.
Update: Fun Factory recently announced plans to update the Layaspot to be rechargeable, stronger and waterproof. I look forward to trying this newer version. When I do I'll do a comparison post.
---